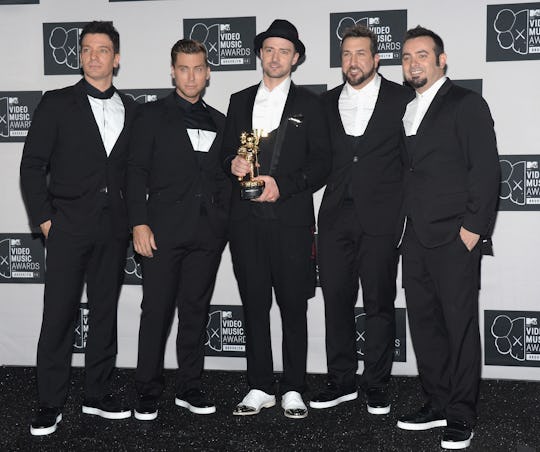 Jamie McCarthy/Getty Images Entertainment/Getty Images
Lance Bass's Tweet About Justin Timberlake's Halftime Show Will Give *NSYNC Fans A Little Hope
Most *NSYNC fans who watched Justin Timberlake's halftime performance during the Super Bowl had the same question running through their heads: Are JC Chasez, Chris Kirkpatrick, Joey Fatone, and Lance Bass going to descend onto the stage to back up their former bandmate? Sadly, the band did not make an appearance during the halftime show — but Lance Bass posted a tweet shortly after that gave fans a shred of hope.
"#ToldYa," he tweeted, in reference to his earlier hints that *NSYNC would not be at the show. "But no worries, we will all be together this spring for the star ceremony. Awesome halftime Justin!" (A star ceremony is the ceremony when celebrities get a star on the Hollywood Walk of Fame.)
This is not the first time Bass has publicly mentioned *NSYNC's alleged upcoming star ceremony — and the last time he did, he caused some confusion. In February 2017, Bass said that the band would be reuniting at their star ceremony at some point that year, in an interview with ET Online.
"We'll all be there! ... We just have to decide on a date. We're terrible at planning things," Bass reportedly said at the time. "We're five guys, so for us to make a decision about anything is really hard, so we just need to do it. So hopefully maybe around Christmas time. It'll be fun to see everybody again." However, the band quickly cleared things up, explaining that Bass's comments were taken out of context, and that *NSYNC was actually not reuniting. Womp-womp.
So while it would be fun to presume Bass's tweet means the band will be singing together this spring when it receives its star, that would probably be taking things out of context yet again. Either way, it sounds like *NSYNC will at least all be together this year, whether or not the band members choose to wear all denim and sing in perfect harmony. Not to mention, it's super sweet that Bass told Timberlake he did an awesome halftime show.
A few hours before the game kicked off on Sunday, Bass posted an elusive tweet commenting on rumors about *NSYNC possibly joining JT on stage. "I really hope people don't get their hopes up for us performing at Super Bowl," he tweeted.
He also shared a text message he got (and loved) from a friend, filling him in on the Puppy Bowl's way of coping with the news that *NSYNC would not be performing. "Apparently the public is demanding an *NSYNC halftime show so today on animal planet during the Puppy Bowl, KitteNSYNC will be performing Meow Meow Meow," his friend texted him.
Bass was not the only *NSYNC member to tweet about the Super Bowl. Joey Fatone posted a tweet about the halftime show — well, not about the halftime show, to be precise. "I may have not been in the halftime show .. I was in a @MonsterProducts commercial," Fatone tweeted.
It's true — here's the commercial, also featuring Iggy Azalea.
Chris Kirkpatrick was a huge fan of the halftime show. After sending his best wishes to Timberlake before the game, he also posted a congratulatory message. "Wow wow wow! Best halftime of all time!!!!!! Way to go @jtimberlake that just made me so proud!!!!" he wrote.
And *NSYNC's official Twitter account (side note: who runs that account? Sounds like a pretty sweet gig) shared a short and sweet message. "Well done @jtimberlake you killed it!" reads the tweet.
So even though an *NSYNC musical reunion may not be on the horizon, fans can probably look forward to a star ceremony reunion sometime soon. And in the meantime, savor the memories.
Check out Romper's new video series, Romper's Doula Diaries:
Watch full episodes of Romper's Doula Diaries on Facebook Watch.