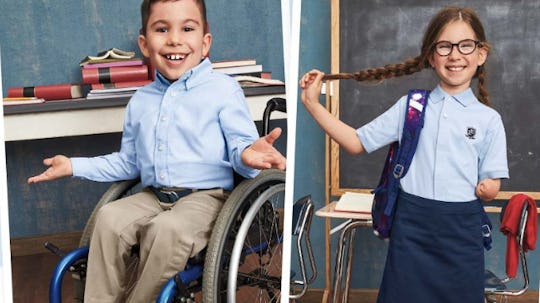 Lands' End
These Adaptive School Uniforms Have Magnets, & Are Perfect For Kids With Disabilities
Back when I was in school, we could spot the private school kids from a mile away by their strict uniforms: pleated skirts for the girls, khakis for the boys, and polo shirts for everyone. Today, uniforms are no longer just for the private schoolers. According to the National Center for Education Statistics, a whopping 21 percent of public schools required students to wear uniforms during the 2015 to 2016 school year. But for the 6.6 million school-age kids with a disability, wearing uniforms can pose a challenge. One company recognized the need for school uniforms for kids with disabilities, and they've stepped up to the plate: the Lands' End adaptive school clothing is a serious game changer.
Lands' End is launching their Universal Collection on Sept. 1 of this year, meaning children with various disabilities and facing different challenges will be able to purchase this "adaptive clothing" for the 2018 to 2019 school year. These uniform pieces, which look identical to the Lands' End original uniform items, feature a variety of different features that aim to "make independence routine." This collection will include shorts, pants, dresses, skirts, polos, and dress shirts — everything your child will need for the year.
The biggest tweak made to the adaptive clothing? Lands' End partnered with MagnaReady, swapping out traditional buttons and zippers with MagnaReady technology. These magnets, described as "super strong and easy-to-manage," will make getting dressed easier and faster. Best of all, most children will be able to dress and secure their own clothing – and that independence is priceless.
In addition to the magnetic features, Lands' End's Universal Collection features "rip & grip" velcro closures in the waistbands of the chino pants and shorts, though they look no different than the originals. MagnaReady technology was added to leg openings of chino pants as well, so they can fit easily and comfortably over any leg and foot braces.
The shirts in the Universal Collection have all been created with the goal of keeping them "sensory friendly." According to the website, "The seams of our adaptive polo shirts and oxford shirts are smooth and the labels are heat-transferred or soft satin for comfort." In other words... these shirts are smooth as a baby's bottom. So even if your child doesn't have a physical disability, those with sensory issues or those who just prefer less fuss with their clothing can be comfortable, too.
Getting dressed is a mundane activity that many of us don't think twice about, but for children with disabilities, getting dressed can be an opportunity to feel empowered and capable. According to Emma Sterland, a writer for the UK-based disability charity Scope, teaching your child to dress themselves — and providing clothing that will make this possible — is a win-win situation for both of you.
"Encouraging your child to dress themselves, and teaching them the techniques to do it, will not only save you time in the future, it will give them an all-important sense of achievement," said Sterland, in a piece for Scope.
Speaking of saving time, mom and dad will be happy to hear that the technology in the Lands' End adaptive clothing doesn't require any extra TLC than your other standard clothing. The technology is durable and tough, just like your family. Spend time doing the important stuff, not sorting and dry-cleaning laundry. Throw adaptive clothing in the wash with the rest of your clothing and call it a day.
Each new school year brings new nerves, anxieties, and hurdles. Getting dressed in your school uniform, and feeling comfortable throughout the day, should not be something that creates more stress. The Universal Collection from Lands' End will not only makes school uniforms more inclusive, but will help children with disabilities get to say the powerful words, "I can do it myself." I salute you, Lands' End, and hope to see more major clothing brands following suit.