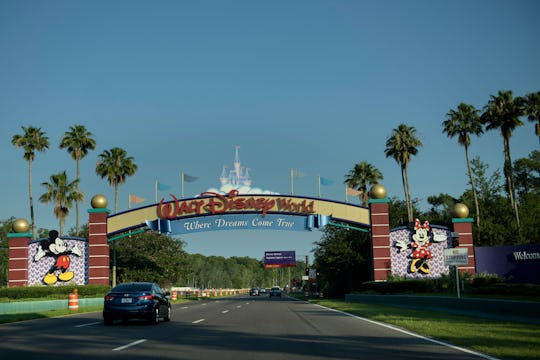 BRENDAN SMIALOWSKI/AFP/Getty Images
Lane Graves' Family Won't Sue Disney, According To New Reports
Last month, 2-year-old Lane Graves was tragically attacked and dragged underwater by an alligator at the man-made Seven Seas Lagoon at Disney's Grand Floridian Resort & Spa. After an exhaustive search, Graves' body was found the next day. An autopsy revealed he died from drowning and traumatic injuries, The New York Times reported. Graves' death is a horrific, nightmarish tragedy, and it's hard to imagine what his family has and continues to go through. As for legal action, Graves' family won't sue Disney, according to new reports.
Graves' parents, Matt and Melissa Graves, recently released a statement stating they will not pursue a lawsuit, but instead focus "on the future health" of their family and a foundation they created, the Lane Thomas Foundation, to "keep his spirit alive," according to Fox 4:
Melissa and I are broken. We will forever struggle to comprehend why this happened to our sweet baby, Lane. As each day passes, the pain gets worse, but we truly appreciate the outpouring of sympathy and warm sentiments we have received from around the world. We know that we can never have Lane back, and therefore, we intend to keep his spirit alive through the Lane Thomas Foundation. It is our hope that through the foundation we will be able to share with others the unimaginable love Lane etched in our hearts. In addition to the foundation, we will solely be focused on the future health of our family and will not be pursuing a lawsuit against Disney. For now, we continue to ask for privacy as we focus on our family
The goal of the Lane Thomas Foundation is to direct donations made to the Foundation's fund, on behalf of the Omaha Community Foundation, to various charitable organizations, according to the Foundation's website.
"While there is no way to mend our hearts, we can do good work in his honor," a statement by Graves' parents read on the site.
The Graves family, hailing from Nebraska, were vacationing in Orlando when the tragic incident occurred. Graves' parents tried to save their son from the alligator's attack, and Matt Graves reportedly tried to wrestle his son from the gator's grip.
"The father did his best," Jeff Williamson of the Orange County Sheriff's Office said at a press conference, according to NPR. "He tried to rescue the child, however, to no avail."
Graves was wading along the lake's edge, with his parents nearby, where there were signs warning against swimming – but apparently no signs warned about alligators. According to NBC News, Disney has since made efforts to add warning signs about alligators.
"We are installing signage and temporary barriers at our resort beach locations and are working on permanent, long-term solutions at our beaches," Jacquee Wahler, vice president of Walt Disney resort, said in a statement according to NBC.
Since Graves' death, parents have shared pictures of their little ones at the same beach where the little boy was, as a somber measure of solidarity for Graves' parents, who were vacationing in the same way many parents do.