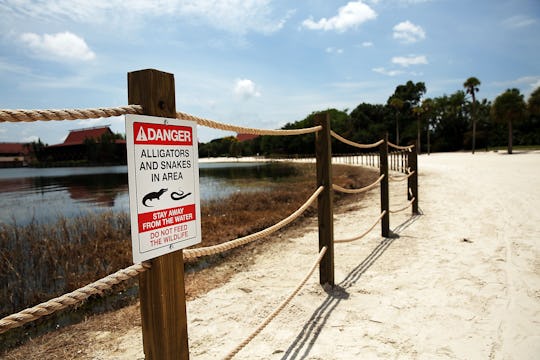 Spencer Platt/Getty Images News/Getty Images
Lane Graves' Father Says 2 Alligators Were Involved In Attack At Disney Hotel
More details have emerged regarding the devastating alligator attack that killed a two-year-old boy at a Disney resort lagoon last month. According to The Orlando Sentinel, Lane Graves' father told officials that a second alligator was involved in the Disney attack, and that he was attacked by the second gator while trying to save his son. The heartbreaking details emerged from emails sent by the captain of the Reedy Creek Fire Department, which were part of public records released this week.
In his emails to superiors, Capt. Tom Wellons wrote that father Matt Graves described "how another gator attacked him as he fought for his son." An Orange County Sheriff's Office spokesperson also told The Orlando Sentinel that a witness on the scene had mentioned a second alligator attacking Graves as he tried to save Lane from the first alligator.
Graves required antibiotics and stitches following the second alligator's attack, but Wellons wrote that Graves "refused to leave" the scene. Among other details, he also wrote, "This incredibly sweet couple insisted on showing us pictures of their happy son. [The] mom kept referring to him as her 'happy boy.'"
Since their son's death, the Graves family has issued two statements, both of which were brief and requested privacy from the public as they grieved.
Since Lane's death, Disney World has put up signs and barriers around their lagoons, warning visitors of alligators and snakes in the area. Previously, there had simply been signs that prohibited swimming, according to CNN, with no mention of alligators in the water. According to The Miami Herald, several guests also reported that alligator and crocodile characters were removed from Disney parades following the attack, and the usual alligator jokes were avoided on the Jungle Cruise and the Kilimanjaro Safari ride.
On June 18, Graves wrote a heartbreaking statement about the loss of his son, which was made available through their church's website:
​​Melissa and I continue to deal with the loss of our beloved boy, Lane, and are overwhelmed with the support and love we have received from family and friends in our community as well as from around the country. We understand the public's interest, but as we move forward this weekend, we ask for and appreciate the privacy we need to lay our son to rest. Neither Melissa, myself or anyone from our family will be speaking publicly; we simply cannot at this time.
On behalf of the Graves family, the St. Patrick's Catholic Church asked the public for prayers, royal blue ribbons tied to trees in honor of Lane, and donations that would be forwarded on to the Graves family.