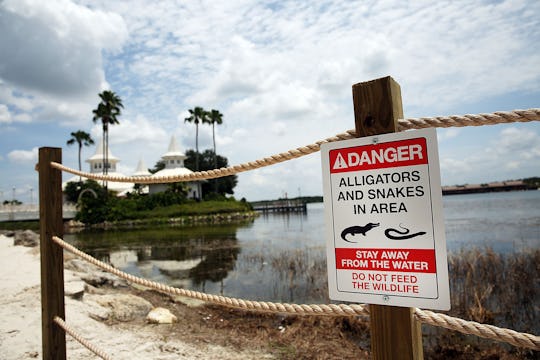 Spencer Platt/Getty Images News/Getty Images
Lane Graves Fundraisers Explode With Donations As Families Grieve The Tragic Loss
It was such an unimaginable tragedy, it hit just about every parent out there right in the gut. Two-year-old Lane Graves was on vacation at Disney World with his family and, while enjoying an outdoor movie night, the little boy was snatched and killed by an alligator while his horrified parents tried to fight off the animal. It's little wonder why so many people wanted to reach out and help the family in any way they could, causing Lane Graves fundraisers to explode with donations. Because many parents felt that the family who lost their precious baby at Disney could have been any of them.
A GoFundMe set up by Kingdom Strollers owner Matt Wilhite, who rented the Graves family a stroller during their visit to Disney World, initially set a goal of $10,000, which was quickly shattered by an outpouring of donations for the grieving family, according to the Orlando Sentinel.
"We saw a picture of our stroller on the news Tuesday night and it was just a heartbreaking moment," Wilhite told the Sentinel. "They were scheduled to go home on Wednesday. It was like their last night there. We just set that up to try to offer their support from past guests....and it just exploded."
The GoFundMe page has since been taken down, but a report from Christian Today said the page ultimately raised more than $50,000.
The Graves family announced that Lane's funeral will be held on Tuesday, and asked for donations and sympathy cards to be sent to their local parish, St. Patrick's Catholic Church in Omaha, Nebraska.
"We are getting calls from all over the country – people just wanting to know how they can help the family," Lisa Seidl with St. Patrick's Church told Omaha.com.
Over the weekend the Graves family released a statement thanking the public for their support and asking for privacy, KETV-Omana reported.
Melissa and I continue to deal with the loss of our beloved boy, Lane, and are overwhelmed with the support and love we have received from family and friends in our community as well as from around the country. We understand the public's interest, but as we move forward this weekend, we ask for and appreciate the privacy we need to lay our son to rest. Neither Melissa, myself or anyone from our family will be speaking publicly; we simply cannot at this time.
The statement was signed "Matt and Melissa Graves."
It's horrifying that a family was vacationing at Disney World and then planning their child's funeral just a week later. I can only hope the Graves family finds some solace in knowing the world grieves the loss of their son right along side the family.