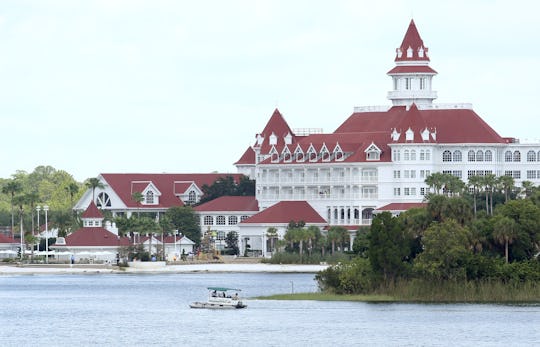 GREGG NEWTON/AFP/Getty Images
Lane Graves' Parents Speak Publicly For The First Time Since Their Son's Tragic Death
Hundreds of people recently gathered together with Melissa and Matt Graves in Elkton, Nebraska to celebrate what would have been the third birthday of their son Lane. Tragedy struck the Graves family on June 12 when Lane was killed by an alligator near the Seven Seas lagoon in Walt Disney World. Friends, family and neighbors wore blue in honor of Lane at the "Love for Lane Celebration" held at the local football field. Lane's parents spoke publicly for the first time since their son's death, thanking everyone in attendance for their love and support.
Melissa and Matt stood on the field, holding on to their daughter, and tearfully opened up about losing their beloved son. "Today Lane would have turned 3 years old, but we celebrate his first birthday in heaven with the community that has surrounded us with love and support." Matt said, wearing a blue t shirt for his son. "Melissa and I often speak of how lucky we were to have spent 2 years, 11 months, and 11 days as a complete family."
Lane's mom, Melissa, also spoke at the celebration. She was visibly emotional as she talked about how much she loved and missed her son. "Anybody who knows me knows I don't like to speak, but, my baby, I owe it to him to honor him," she said. "So his mommy needed to say, happy birthday, Lanie. You're in our hearts today and every second of every other day."
Those congregated in Lane's honor came together in the shape of a heart at the end of the celebration and released thousands of blue balloons. The Graves cited their community as a source of strength since losing their son in June, and the event highlighted the solidarity of their loved ones. The event was organized by Mike and Brandi Miller, whom Matt described as "the best neighbors anyone could wish for."
The Graves family has decided not to sue Walt Disney World in the wake of their son's death. Instead they are focusing their time and energy during this difficult time on creating a charitable organization in Lane's honor. The Lane Thomas Foundation accepts donations through the Omaha Community foundation. The Graves released a statement on their foundations website saying that while there is "no way to mend our hearts, we can do good work in his honor."
It's difficult to imagine the grief the Graves family must be enduring, but they have the strength of a compassionate community behind them to help them through the hard times.