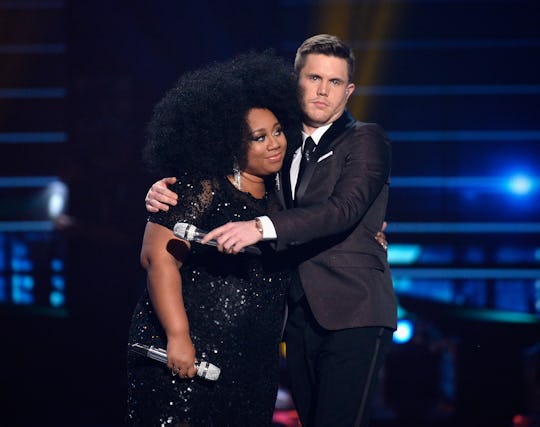 Kevork Djansezian/Getty Images Entertainment/Getty Images
La'Porsha Renae Lost 'American Idol,' But This Is Only The Beginning Of Her Career
I'll admit it: I screamed at my TV when La'Porsha Renae lost American Idol on Thursday night. Although I believe that Trent Harmon is an incredibly talented singer, I thought La'Porsha had the title in the bag. Week after week, La'Porsha's power and strength reverberated across the country from the Los Angeles stage into my itty-bitty Manhattan apartment, and I became a believer in American Idol again. So, naturally, I was devastated when she lost. But, then I remembered that La'Porsha Renae's American Idol loss is only the beginning of her career. No, really. Losing the American Idol title will not prohibit La'Porsha from reaching the same amount of success the title could have given her.
Over the years, American Idol became stale to me. I had started watching the show in 2002, like a lot of America, and had fallen off the wagon. Maybe it was the constant judge changes or the same format year after year. Regardless, something drew me back in during Season 15, and that something was a 22-year-old Mississippi single mother. Whether she was covering "No More Drama," or completely owning — sorry, Rihanna — "Diamonds," everything La'Porsha touched turned to gold.
The judges noticed it, too. Almost on schedule each week, the judges would praise La'Porsha's talent, while social media sites like Twitter did the same.
And then La'Porsha lost.
But, this isn't the end for the young star. In fact, Billboard revealed after Thursday's show that La'Porsha will also be joining the Universal Music Group family post-Idol. Some seasons don't always end up in the runner-up being offered a contract, but this time around, La'Porsha scored a record deal with 19/Big Machine/Motown Records, in partnership with Big Machine, Billboard reports.
"Because of the overwhelming fan demand and success of the farewell season of American Idol, we have made the decision to sign both the winner, Trent Harmon, and runner-up, La'Porsha Renae, to exclusive recording agreements," Big Machine Label Group founder and CEO — and resident Idol mentor — Scott Borchetta told Billboard.
I don't want to diminish the American Idol title. It's really incredible that Trent gets to join a group of people that have accomplished the same thing that he has. But, it is not uncommon for a non-title holder to move on to bigger and better things, which I certainly think will be the case for La'Porsha. Take Jennifer Hudson, who placed seventh in her season. Hudson went on to win an Oscar and a Grammy for her accomplishments post-Idol, and she wasn't even in the Top 2. That just shows that success is measured in talent, not title.
So, while I'm upset that La'Porsha didn't win the title of the final American Idol, I don't think that being the runner-up will hurt her in anyway. I, for one, can't wait to see all of the amazing things she accomplishes in her career. Her star seems to know no boundaries, and I can't wait to see how far her shine will reach.