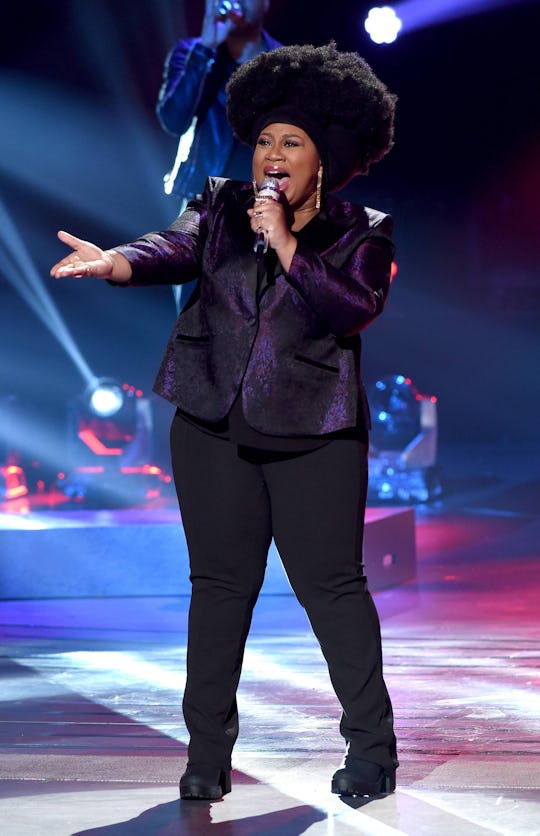 Ray Mickshaw/ FOX
La'Porsha Renae On 'American Idol' Is The Next Kelly Clarkson, & Here's Why
I am hesitant to say that La'Porsha Renae on American Idol Season 15 is the next Kelly Clarkson for one reason. I would hate to diminish both women's unique qualities that have made them successful in their own right. With that said, I think that it is very possible that La'Porsha could reach the same amount of success that Kelly Clarkson has found since winning the first season of American Idol — maybe just without the From Justin to Kelly-esque film. Joking aside, La'Porsha's future is bright, and it's just beginning, much like Clarkson's post-American Idol.
Each week I am impressed with La'Porsha's talent. To me, La'Porsha isn't just talented when it comes to singing, I mean that La'Porsha is talented as a a singer and as a performer. Yes, her voice is incredible. But week after week, La'Porsha also manages to entertain with her stage presence, her restraint, and her personality (the personality she brings to the stage is just as great as the one we see behind-the-scenes). It reminds me a lot of Clarkson, who shared a lot of the same characteristics way back when American Idol was just a passion project for Simon Cowell (who I honestly forgot was once on this show).
So what are some of the qualities that suggest La'Porsha could be the next Kelly Clarkson-success of American Idol?
She's A Frontrunner
Each week, La'Porsha reminds America why she is constantly safe from elimination. We don't know how La'Porsha places each week, since Ryan reveals those safe "in no particular order," but we do know that she's never in danger.
She's Got Clarkson's Support
What more could you want as an Idol hopeful?
She's Got An Incredible Fan Base
If you go on Twitter during American Idol, La'Porsha is a clear fan-favorite on the social site.
She Can Cover Anything
Like Clarkson, no matter what La'Porsha is covering each week, she always kills it.
She's A Strong, Powerful Woman
When La'Porsha started on American Idol she was open about her life as a single mother who had previously been in an abusive relationship. Just like Clarkson, who was abandoned by her father, La'Porsha has proved how strong of a woman she is, inspiring so many.