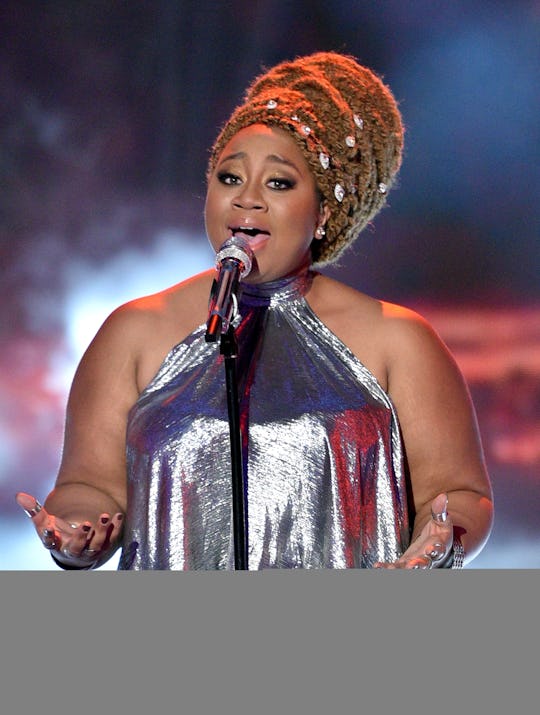 Michael Becker/ FOX
La'Porsha Renae Performs "Battles" On 'American Idol,' & The Song Is Perfect For Her
The end of an era is here. The final two contestants on American Idol have been chosen — although unfortunately not revealed at the time of this performance —, and one of them will be crowned the final Idol on Thursday's live series finale. Since the emotions are already at a 20 on a scale from 1-10, let's just get down to the real pull-at-your-heart-strings moment of the night, when American Idol star La'Porsha Renae performed one of her most moving songs to date during the Final 3 performances. La'Porsha Renae's song "Battles" on American Idol was not only perfect for the single mom's journey — it catered to her narrative so well — but it also addressed the struggles and the journeys we all take, once again, allowing fans to relate to the singer, possibly for one last time.
La'Porsha's song "Battles," written by Who Is Fancy (the voice behind "Boys Like You"), hit an emotional chord for viewers. The song's lyrics talk about how everyone has battles that they have to overcome and that we all have struggles that we face, but, we also all have journeys, and those journeys eventually lead somewhere that proves that "your dreams won't be that far." La'Porsha's song echoes her own struggles in life. As we've heard on the show before, La'Porsha was allegedly in an abusive relationship before leaving the man behind, ultimately making her a single mom to a newborn baby. And look where she is now, singing in front of millions, potentially earning the title of the final American Idol winner.
The judges weren't judging during this round of performing, but there was a cut away of Keith Urban really enjoying the song, so I'll just read into that as a two-thumbs-up head bop, thank you very much
If La'Porsha wins the entire shebang, "Battles" will be her first single. With enough votes, fans could see La'Porsha singing "Battles" in the American Idol's winner circle during Thursday night's finale.