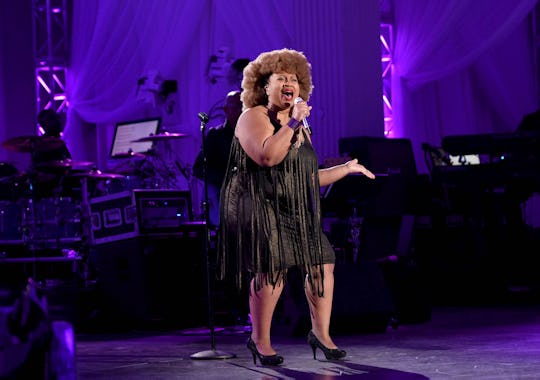 Fox
La'Porsha Renae Sang "Proud Mary" On 'American Idol' & Everyone Freaked Out — VIDEO
American Idol contestant La'Porsha Renae wowed the audience with a soulful version of "Proud Mary" on Wednesday's episode. In a black flapper dress, Renae interacted with the audience and obviously connected with the three judges who were all smiles, as the orange lights and set went well with the bumping rythym of the well-known hit. When Ranae sang "Proud Mary" everyone freaked out — including judges Harry Connick Jr., Jennifer Lopez, and Keith Urban. She even had Lopez dancing along.
Renae can now count herself as one of the stars that have sung those same famous words, "rollin' on the river" — and it's a pretty great list that includes Tina Turner, Aretha Franklin and Creedence Clearwater Revival, to name a few.
The single mom has been an strong contestant from the start, with no problem getting through auditions and Hollywood Week. And she certainly didn't seem spooked for the first night of the semi-finals. After the Top 24 were split into two groups of 12, Renae performed last, and the episode went out with a bang. She belted the tune out with controlled strength and some pretty impressive choreography — so impressive that she got a standing ovation from Urban.
Connick Jr. who is know to be a bit critical had high praise for Renae as well, remarking,
I think one of two things is going to happen from that performance: You're either going to make the other competitors get better or you're gonna make them want to quit. You're so captivating and so smart. I would be foolish to critique that in any way shape or form.
Lopez, too, jumped in on the praise train. "It's just a joy," she said. "It's a joy to listen to you sing. I just love it. Voices like yours, I swear I dream about them. I do. It's amazing. You're just gonna get stronger and stronger."
Renae was channeling all sorts of stars during Tuesday's American Idol performance. Gillian Telling, senior editor at Entertainment Weekly, picked up on some serious Janet Jackson vibes:
And it didn't take Twitter long to blow up with responses and encouragement for Renae's stellar performance either, including some encouragement from the very first American Idol winner, Kelly Clarkson herself:
So, whats next for Renae and the Idol contestants? Viewers will be privy to two pre-taped performances: Tuesday's episode, and one on Feb. 17, which means 12 contestants will be singing for the judges each night. Then, the two results shows will be on Feb. 11 and 18, which will cut the pool down to the Top 14.
Let's just cross our fingers and hope La'Porsha Renae is one of the lucky ones.