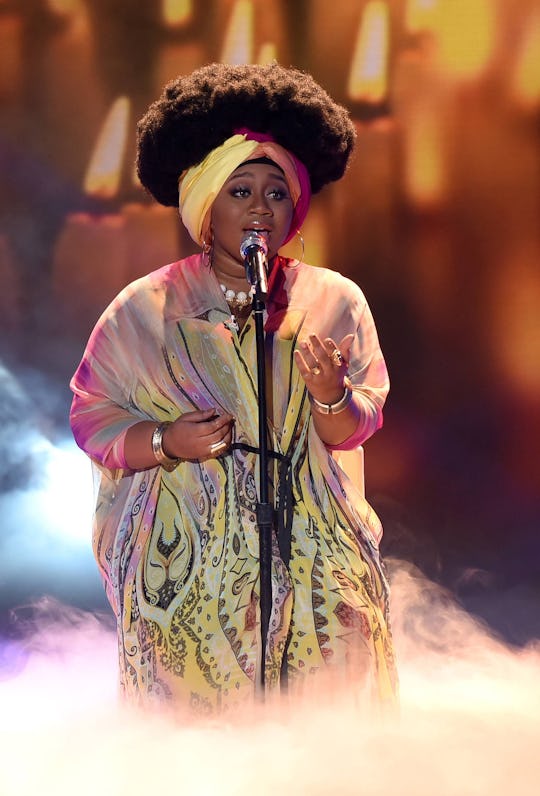 Ray Mickshaw/ FOX
La'Porsha Renae Sings "Wanted Dead Or Alive" On 'American Idol' & Becomes A Rock Star
There seems to be no boundaries for La'Porsha Renae's talent on American Idol. The singer has covered songs like "No More Drama," "Halo," and "Come Together," but on Thursday's American Idol La'Porsha took on classic rock. And guess what? La'Porsha became a rock star, because La'Porsha, clearly, can do anything. La'Porsha Renae's performance of "Wanted Dead or Alive" on American Idol not only proves that the singer can adapt to different styles of music, but that she can excel in a different style of music, too. Once again, La'Porsha has proven that no matter what the Idol stage throws at her, she can take it on.
Thursday's rock themed-episode took La'Porsha Renae out of her comfort zone. Turns out, though, that La'Porsha is as comfortable as ever outside of her comfort zone. The young mother took on Bon Jovi's classic song, and not only made fans happy, but she also appeased the judges. Instead of singing the song exactly the way we, as fans, know it, La'Porsha slowed the song down a little bit, and made it totally intoxicating. Bon Jovi has to watch his back, because La'Porsha could steal his thunder — and surely his karaoke song — after that performance.
There was a moment during her performance where it seemed that La'Porsha forgot the lyrics for a moment. Neither the judges nor Ryan Seacrest mentioned the minor flub, but Twitter did seem to notice.
While the moment wasn't noticed by the judges, it is the fans that vote for the show, so it will be interesting to see if it affects the results for the week. Something tells me that La'Porsha will do just fine in the voting department, but on a show like this, every word counts.