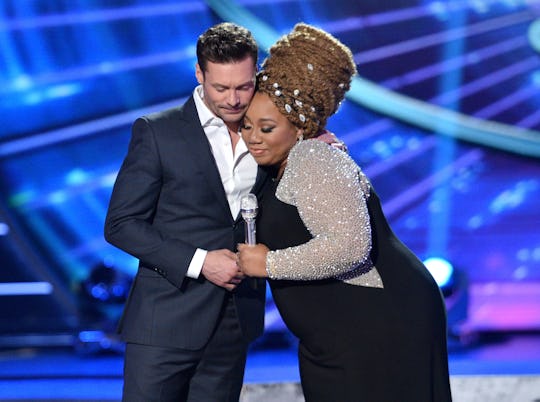 La'Porsha Renae's "Diamonds" 'American Idol' Performance Might Just Win Her The Show
Excuse the pun, but I have sang La'Porsha Renae's praises since the moment she stood in front of the judges and sang "Creep" during the audition process of American Idol Season 15. The 22-year-old (yes, she's only 22), consistently proves that she is the one to beat on the final season of the show, and Wednesday's performance was no different. After announcing the Top 2 of this season, La'Porsha sang "Diamonds" on American Idol, and this performance alone could have been the one that wins her the title (announced on Thursday, during a grand finale).
There have been many performances that La'Porsha has done throughout her time on the show that have stood out. I'll never forget her version of "Come Together," and I'll always remember the strength and power behind her cover of "No More Drama." But, one of her most memorable performances was when she sang "Diamonds" on the Idol stage during Top 10. Well, she's did it again — this time with some original runs and notes. With a number like this, it's hard to argue that she won't be sliding into the winner's circle on Thursday's finale. (She had the audience chanting her name, after all.)
That's not to say her competitor isn't talented. Week after week, Trent amazes me with his song choice and performance. Is he the most consistent? Maybe not, but even La'Porsha suffers with the flub here and there (she forgot some of the lyrics during her Top 3 performance). Trent's "Chandelier" redo during the Top 2 performance was one of his best performances on the show — once again solidifying that this competition is very, very close.
The judges, as usual, loved La'Porsha's performance of "Diamonds". Jennifer Lopez and Keith Urban both agreed that that it was beautiful. Lopez even said that she couldn't wait to go to one of La'Porsha's shows (let's carpool?). Now, it's up to fans of the long-running show to decide if La'Porsha is who they believe is their American Idol, or if Trent better embodies the honor. After this performance, it's tough to say that La'Porsha isn't one of the best singers the show has ever had, let alone her season.