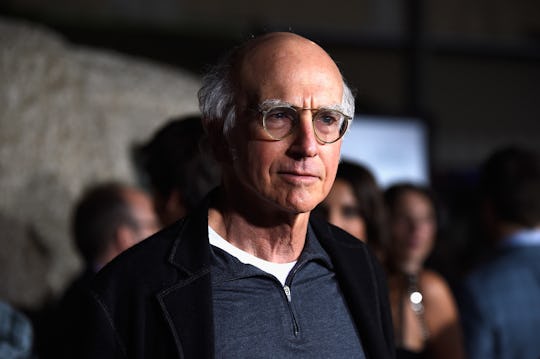 Frazer Harrison/Getty Images Entertainment/Getty Images
Larry David Returns As Bernie Sanders On 'Saturday Night Live' & Continues To Be Hilarious
As usually for Saturday Night Live during an election year, the cold open parodies both the candidates and election media coverage. Between candidates resigning from the race and all the protests at Trump rallies recently, it was easy to predict that episodes will begin with some mention of what's going on. Saturday night's episode was no exception, and saw the return of actor Larry David as Bernie Sanders.
David's Sanders came on screen to roaring applause. He mentioned telling his fans to get a life and apologizing for making everyone's Facebook feeds "so annoying." He also wanted to thank his supporters for voting for him.
"My message is resonating with a very diverse group of white people," Sanders said. He continued that his supporters were "of all ages, 18-year-olds, 19-year-olds..."
Also in the cold open was Donald Trump, portrayed by Darrell Hammond, and Ben Carson, played by Jay Pharoah. The cold open took a darker turn after David's appearance, and took on the violence occurring at Trump's rallies. SNL took a turn, however, and the person subject to the violence was Carson.
By doing this, the skit also subtly mentioned the racism of many Trump supporters – well, more subtly than the "Racists for Trump" short from Mar 6's episode. When the skit cut to the hurt Carson, Trump yelled, "Guys, what did I say? Not this one!" alluding to the notion that Carson was attacked for his race.
David returned as Sanders later in the skit. He was then dressed in pajamas, poking fun at Sanders' age.
This is not the first time David portrayed Sanders on SNL. He first portrayed the candidate on the Oct 17 episode last year, and was thought to be a great fit from the start. When David hosted on Feb 6, his Sanders character did not return in the cold open. Rather, he played Sanders in an entire digital skit entitled "Bern Your Enthusiasm." Not only that, but the actual Sanders appeared in the episode.
SNL fans on Twitter immediately rejoiced at David's return as Sanders.
Given the awesome response to the surprise appearance, it's likely that David will return again as Sanders. SNL's tendency to cover the upcoming an election is also an indication. With candidates and news stories so easy to parody, we can see why the show returns to it again and again. SNL's election coverage will only increase as the election draws near – and if Sanders is the Democratic candidate, David will almost certainly he back to portray him.