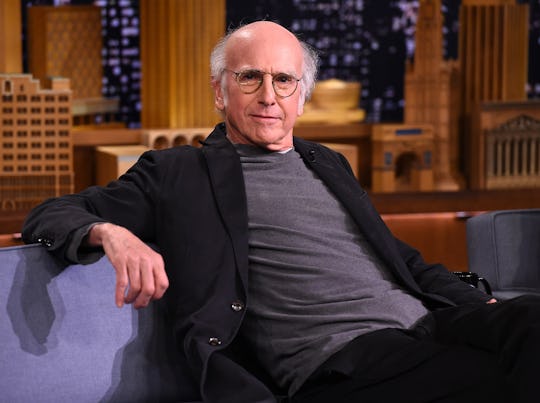 Larry David Will Host 'Saturday Night Live' & Here's Why It Will Be Epic
Whelp, it's official: Larry David will host Saturday Night Light on Feb. 6, and I've gotta say, this news is "pretty, pretty, pretty good." I mean, this whole damn season of SNL has been pretty good — I'm looking at you, Adam Driver — but I expect when a legendary comedian takes the reigns next month, things will go from good to epic. David, who is best known for is role in Curb Your Enthusiasm and his hand in the co-creation of Seinfeld, has already guest starred twice this season (playing Democratic presidential hopeful Bernie Sanders), but this will be his first time hosting the show. No one should worry about it being his first time, though, because some of David's best TV moments prove that he will do a damn good job.
You see, David actually has a fascinating and, um, troubled history with Saturday Night Live. Things started out great: In 1984 and 1985 David was a staff writer on SNL, according to Biography.com. However, only one of David's sketches ever made it to air, and he left the show shortly after. But this proved to be a great move for David, as it was after SNL he started working with Jerry Seinfeld on — perhaps — the show and sitcom which defined a generation.
The good news is that thanks to Vermont Sen. Sanders' presidential aspirations — and one hell of a political year — it seems David and SNL have put their differences aside, and now David will be bringing his unapologetic, in-your-face comedy stylings to live TV. But is he ready? According to these four Larry David moments, David will be one hell of an SNL host.
The "Pants Scene"
The bunch-up heard around the world, this infamous scene from Curb Your Enthusiasm shows David's comedic range. (OK, maybe not his "comedic range," but it is hella funny and it proves there is no joke too good for David.)
The Many Faces Of Larry David
From this one:
To this one:
And even this one:
Larry David does things with his face I cannot even begin to explain. I also cannot stop laughing.
David's Sanders Impersonation Was Spot On
It's officially an election year, and David may be the best Sanders since, well, Sanders himself. I expect the Feb. 6 episode will be heavy on politics. And from his hair (or lack thereof) to his elaborate hand movements and gesturing, David is the perfect balance between the always-spirited Sanders and a cranky, and impatient, old man.
Oh, And That Time David Called Donald Trump A Racist...On Live TV
Sure, it was all part of the sketch, but David is sorta like that grumpy neighbor next store. Sure, he may laugh while he yells at you... but that doesn't mean he isn't yelling at you. And that's sorta what I feel about this spot. David may have called Trump a racist "in the name of comedy," but was that the only reason?
I cannot wait to see what path David's hosting stink will take.
Images: Theo Wargo/NBC/Getty Images; vlibl; Saturday Night Live; THE BIG SCREEN/YouTube, Giphy (3)