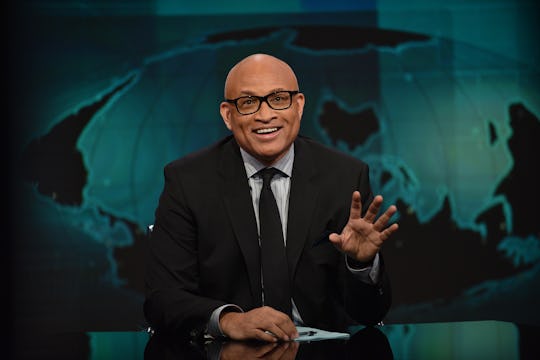 Bryan Bedder/Getty Images Entertainment/Getty Images
Larry Wilmore Calls White House Correspondents' Dinner 'Narcissistic' & He May Be Right
As a lover of all things media, I can really get behind the mission of the White House Correspondents' Association to "ensure a strong free press and robust coverage of the presidency." The culmination of that effort is the annual White House Correspondents' Dinner, which purports to celebrate the relationship between prominent journalists and White House officials. It's also a black-tie gala that attracts nearly 3,000 guests, including notables ranging this year from Uber co-founder and CEO Travis Kalanick to U.S. women's soccer goalie Hope Solo to Spotlight actor Mark Ruffalo — and not everyone's a fan. According to host Larry Wilmore, the White House Correspondents' Dinner attendees make up "the most narcissistic room ever invented" — and considering the high-profiles of many of those who will attend the Saturday evening soiree, only to dine and schmooze together, he may be right.
"The room could explode from the narcissism alone," the host of Comedy Central's The Nightly Show told CNN's John Berman Thursday in an interview, referring to the guest list of "journalists, politicians and Hollywood" bigwigs. "And the president," Wilmore added cynically.
To be honest, I'd probably get a bit of a big head too if I got the invite to the exclusive shindig. I mean, you guys, Bernie Sanders is going to be hanging out with Kendall Jenner and Megyn Kelly. This is the stuff headlines are made of! Plus, last year President Obama — considered by some to be the most expertly funny president we've ever had — presented a full-on comedy routine with Keegan-Michael Key. Who wouldn't want to see that?
And Wilmore clearly has some big plans for this year's "nerd prom" as well. It's hard to separate yourself from the narcissism when you're about to be the (hilarious) ringleader of it all. During a game of Candidate Word Association during the CNN interview, in somewhat of a warmup for the event, he described Bernie Sanders as "scrappy," Ted Cruz as "creepy," and Donald Trump as "unbelievable."
Although he couldn't come up with the right adjectives for Hillary Clinton or John Kasich, Wilmore definitely plans on acknowledging Obama's "historic presidency," he said in a recent interview with The Hollywood Reporter:
You pay respect by being completely disrespectful. You spread that disrespect all around the room and just have fun. I'm very honored to do it. I'm the same age as Obama, but we kind of went on different paths. We graduated high school at the same time. So for me, it's kind of surreal if I really sit and think about it. Man, I never would've considered a peer, a brother growing up in the era that I did, would be president someday. I remember it was a big deal when Thurgood Marshall was named to the Supreme Court. I thought that was the biggest thing for a long time.
Obama himself has quite the history of roasting both policies and people. Last year, he joked that he and Vice President Joe Biden had "gotten so close that in some places in Indiana they won't serve us pizza any more," a reference to anti-LGBT legislation the state had recently passed.
And in 2011, he implored Donald Trump, who has publicly challenged the president's American citizenship, to "focus on the issues that matter." "Like, did we fake the moon landing?" Obama asked. "What really happened in Roswell? And where are Biggie and Tupac?"
So, yeah, there will certainly be some personalities in the room. One that will be conspicuously absent, though, is The Donald himself, who declined to attend ostensibly because the self-described billionaire who claims he alone can make American truly great doesn't want anyone to make fun of him again during his presidential bid. The the dinner will be safe from that ego, at least, Larry.