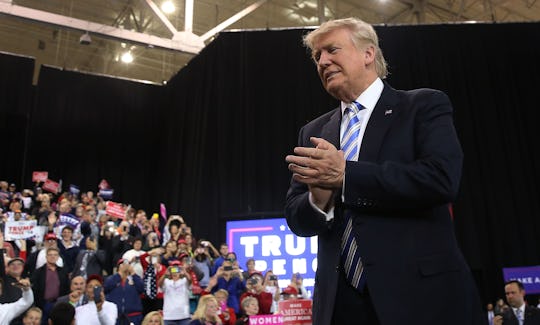 Spencer Platt/Getty Images News/Getty Images
Las Vegas Review-Journal's Trump Endorsement Has Raised A Few Eyebrows For This Reason
On Saturday evening, the Las Vegas Review-Journal became the first major newspaper (and one of only a handful in total) to endorse Republican candidate Donald Trump. As Nevada's largest newspaper, the endorsement was likely well-received by the Trump camp — but for others, the Las Vegas Review-Journal's endorsement raised a few questions, thanks to Trump's connections to the newspaper's owner. "History tells us that agents for reform often generate fear and alarm among those intent on preserving their cushy sinecures. It's hardly a shock, then, that the 2016 campaign has produced a barrage of unceasing vitriol directed toward Mr. Trump," read the Las Vegas Review-Journal's editorial endorsing Trump.
The endorsement ended with a call to action for a political revolution:
Mr. Trump represents neither the danger his critics claim nor the magic elixir many of his supporters crave. But he promises to be a source of disruption and discomfort to the privileged, back-scratching political elites for whom the nation's strength and solvency have become subservient to power's pursuit and preservation. Donald Trump for president.
The Las Vegas Review-Journal's endorsement may be joining a small handful of other endorsements (The National Enquirer and a couple of News-Press local papers among them), but it's raised a few eyebrows in doing so.
The reason for skepticism comes from Trump's connection to the newspaper's owner, Sheldon Adelson, a billionaire and casino mogul. Adelson is a major Republican donor, and he previously personally endorsed Trump in a Washington Post op-ed. He also bought the Las Vegas Review-Journal in December for a massive $140 million, a move which, at the time, was predicted to have political repercussions in the future. Jon Ralston, host of the political Ralston Live, told The New York Times in January, "I find it hard to believe that he would have so dramatically overpaid for that paper without having some agenda in mind." Romper reached out to Adelson's representatives at the Las Vegas Sands Corporation for a statement and is awaiting a response.
Regardless of how the endorsement came about, the Las Vegas Review-Journal Republican boost comes at a time when Trump could definitely use it. A recent RealClearPolitics polling average showed Democratic nominee Hillary Clinton 5.9 points ahead of Trump, and she's seen an early vote advantage in Arizona, Colorado, Florida, Nebraska, North Carolina, and Maine.
So far, Democrats have outnumbered Republicans at early voting stations in Nevada. Let's see if Trump's newest endorsement changes anything for voters in the city.