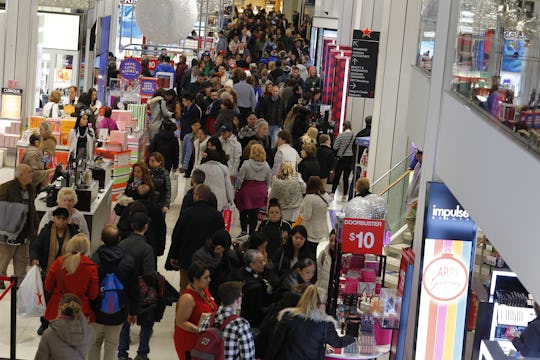 KENA BETANCUR/AFP/Getty Images
Last-Minute Black Friday Deals, Because Waking Up Early Is For The Birds
One thing I've never understood about Black Friday is how people get up ridiculously early the morning after a gravy-laden Thanksgiving dinner to fight their way through a packed mall. I'm always down for a good deal, but waking up early has never been my jam, and I can't think of a single time I've woken up in the wee hours just to buy something. Still, good deals aren't reserved solely for early birds, and there's plenty of last-minute Black Friday deals for us later wakers to take advantage of — because yes, you can sleep in and still score on Black Friday savings.
Whether you're looking for the perfect gift for your little one or simply trying to knock a few items off your shopping list while things are on sale, you've got plenty of options. There are tons of discounts that are running later on Friday or taking place throughout the entire weekend, and some of the prices rival those early-morning, lineup-required bargains. So now that you're well-rested (and have maybe enjoyed some Thanksgiving leftovers), here are a few of the top Black Friday deals to take advantage of later in the day. Happy shopping!
Amazon
If you thought everything would be all sold out an hour after Black Friday kicked off, think again. On Black Friday, Amazon rolls out new deals — called Lightning Deals — every five minutes. While supplies go quickly, shoppers can just refresh the page and find new product savings to take advantage of, from electronics to sporting gear to clothing.
On Black Friday only, Amazon will also charge shoppers only $79 for a year of its Amazon Prime service — so if you want to get better deals and faster shipping for the rest of the year (rather than just on Black Friday), now's the time to sign up. Prime usually costs customers $99 a year.
ASOS
Thirty percent off everything, all weekend long? That's a Black Friday deal I can get behind.
Flights
They may be less tangible than products crammed in a shopping bag, but flights are also on sale on Black Friday — and some airlines are offering up new deals all the way until Giving Tuesday next week. So if you've been dreaming up a flight to Milan, Siem Reap, Berlin, or the Caribbean, book those tickets now. According to Condé Nast Traveler, the airlines to watch for deals are Cathay Pacific, Emirates, British Airways, Airberlin, JetBlue, and Spirit.
Psst — Secret Flying will also be keeping their eyes peeled for Black Friday flight sales, so make sure to check in with them, as well.
ModCloth
ModCloth's Black Friday promos might all have the word "Friday" included in them, but the store's deals run all weekend long. Get 20 percent off everything until Sunday evening.
Joss & Main
If you're trying to make your apartment look more like a respectable adult's and less like it was cobbled together with IKEA furniture and relatives' donations of kitchen utensils (who, me?), check out Joss & Main's Black Friday deals. Their TGI (Black) Friday sale cuts prices by up to 80 percent, and any purchases over $50 earn shoppers free shipping. Oh, hello, grown-up apartment.
Barnes and Noble
Trying to get some reading material under the tree for your tots? Barnes and Noble is offering 30 percent off everything all weekend (both in-store and online), and chances are you can get an awesome copper mug for your friend who loves Moscow Mules while also picking up a few books for the family.
Beauty
If you've been eyeing those holiday make-up tutorials on YouTube, you might like a few of the deals being offered up this weekend. Macy's has a 20 percent discount on everything online; Target is letting shoppers take 25 percent off its beauty products; Sephora is offering up $10 Black Friday beauty sets; and Nordstrom is taking 20 percent off selected items throughout the weekend. Your options are pretty much endless.
So now that you know where to head and it's a more comfortable time of day, get yourself out the door (or get yourself online) and take advantage of those last-minute Black Friday deals. No loss of sleep required.