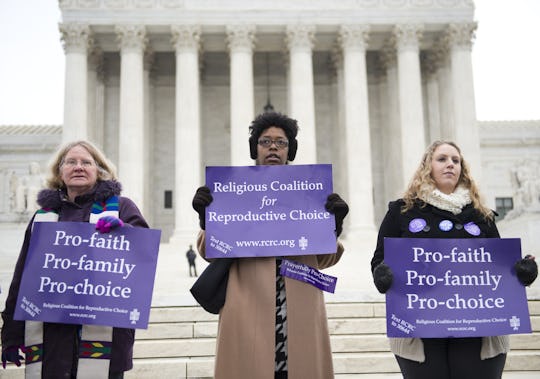 SAUL LOEB/AFP/Getty Images
Late-Term Abortion Laws By State Show It's Difficult For Women To Get The Care They Need
With the presidential election just over two weeks away, the issue of reproductive choice is once again on the ballot by proxy, as each presidential candidate has voiced their commitment to either protecting or eliminating a woman's right to bodily autonomy. The ongoing vacancy on the Supreme Court has put the legacy of Roe v. Wade in question, as the next president's SCOTUS appointee could tip the balance of the bench in either political direction. And yet, even though Roe v. Wade has been the law of the land on the legality of a woman's right to an abortion since 1973, states have chipped away and even dismantled women's access to reproductive healthcare bit by bit. Late-term abortion laws by state, for example, reveal a vast disparity of women's access to often necessary medical care.
First, what is a late-term abortion? It's helpful to have an understanding of the parameters. Late-term abortions typically refer to the termination of pregnancies after 20 weeks post-fertilization, which is often typically at 22 weeks gestation, according to The New York Times. It's important to contextualize late-term abortions in their medical context, as some anti-choice proponents falsely argue that late-term abortions are some kind of last minute change of heart by the mother; in truth, having a late-term abortion is far more emotionally and medically nuanced than just a casual surgical retraction on the idea of being a mom.
According to the Guttmacher Institute, 43 states currently have laws that prohibit abortions being performed after a certain number of weeks in a pregnancy. Here's a look at how late-term abortion laws vary by state — and why, come Nov. 8, every vote matters so that no more laws like these make it onto the books.