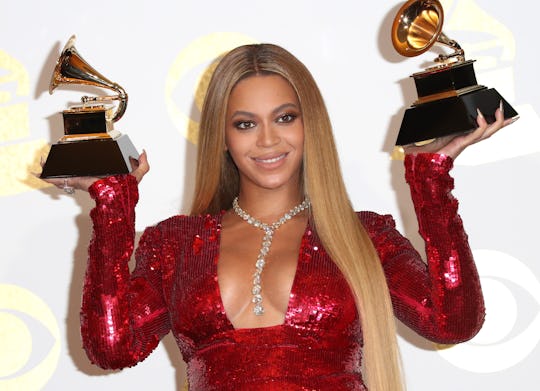 Frederick M. Brown/Getty Images Entertainment/Getty Images
Fans Think Beyoncé Revealed Her Twins' Genders (Again)
Beyoncé continues amaze her fans with beyond-glamorous photos of herself in dazzling jewels and outfits that perfectly show off her majestic bump. But because she is, after all, Queen Bey, the Beyhive knows that she might be trying to symbolically convey a message through these Instagram posts at the same time. And this latest Beyoncé pregnancy theory is no different, because her most recent photo shoot now has her followers scrutinizing her jewelry choices once again.
Why? Well, fans seem to think that Beyoncé is dropping hints about the sex of her twins. The photos that sparked this most recent discussion were posted on Saturday night and it all started with a video slideshow of her wearing a long, form-fitting royal blue gown. Shortly after, she posted another batch of pics, this time highlighting her stunning accessories: blue-and-pink jeweled earrings, a sapphire ring, and her high heels, which also featured blue and pinks jewels (as well as couple other colors).
Fans interpreted these close-up shots of her jewelry as a possible hidden clue that she might be revealing the sex of her twins: a boy and a girl. But, as Elite Daily reported shortly after her unexpected pregnancy announcement, this wouldn't be the first time Beyoncé subtly hinted at some pretty exciting news about her bundles of joy on Instagram (that is, according to her fans).
Well, it seems like followers are on to her this time and have been taking a hard look at these latest photos, specifically this close up of her earring:
While the majority of comments on the photos couldn't get over how gorgeous her jewels were, others were investigating what they could possibly mean. "She giving us clues..." one follower commented. "I think she's having one of each," another wrote. "Baby boy and girl I'm betting you," another fan concluded.
This is hardly the first time fans have tried to get to the bottom of any clues hidden in her recent Instagram posts. Just last month, for instance, People explained why fans thought Beyoncé was having twin boys: in a separate photo shoot posted back in March, Bey wore the same earrings that she did in her 2008 music video for "If I Were A Boy," leading fans to believe that Blue Ivy would have two little brothers.
But, just a month before that theory, fans were convinced that she's expecting a boy and a girl due to the lingerie she was wearing in her pregnancy announcement on Instagram: blue ruffled underwear and a burgundy bra with a tiny pink bow on the strap.
Beyoncé still has yet to reveal many details about her pregnancy, other than that she and husband Jay Z are expecting two little ones. Who knows, this latest theory could be right on the money. Or, this latest photoshoot could simply be nothing more than a fun glimpse into a glamorous night out. Either way, fans clearly can't wait for her twin's arrival, and, in the meantime, it's certainly fun to try and crack Queen Bey's code.