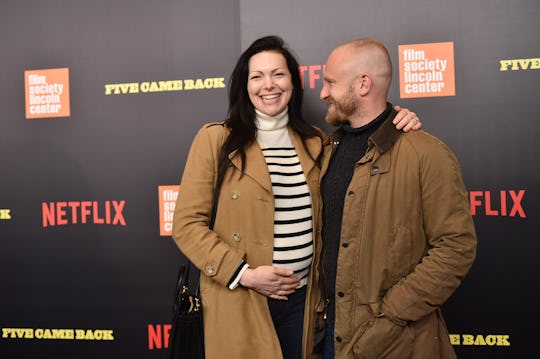 Mike Coppola/Getty Images Entertainment/Getty Images
Laura Prepon Asked For The Most Relatable Holiday Parenting Advice On Instagram
Like so many songs try to tell people this time of year, there is nothing quite as special as going home for the holidays. But any new or seasoned parent knows that being with family and friends is the easy part of the holidays, and the hardest part is traveling to those family members with your kids, especially newborns. Even celebrities know that struggle. So it is no wonder that actress Laura Prepon used Instagram to ask for parenting advice on traveling during the holidays, because it's hard on everyone.
Avid TV watchers know Prepon from her role as Donna on That 70's Show or Alex Vause on the binge-worthy Netflix series, Orange Is The New Black. But to her newborn daughter, Prepon is best known as "mom." While Prepon has been in the acting business for years and years, being a mom is something that, like most parents, she's learning as she goes. In late August, People reported that Prepon and fiancé, Ben Foster, gave birth to a baby girl. Since then, the pretty private actress and couple have been doing just that — living a low key life with their daughter.
But just because Prepon has been quiet about her life as a new mom doesn't mean that she doesn't go through the same struggles as all moms — she just does it behind closed doors. Case in point, on Monday, Prepon had to ask her Instagram followers for advice when it came to traveling with her newborn, finally giving people a behind-the-scenes look into her life as a parent.
In the photo series, Prepon struggled with assembling (and disassembling) a pack 'n play, or a portable crib that many parents use while traveling with their babies. "Having trouble with the new crib...any tips on traveling with a newborn so I can avoid stuff like this?!" Prepon asked, using the #MomTipMonday to bring more attention to the fact that she needed some help. Luckily, celebrities, seasoned experts, and fans of Prepon on Twitter and Instagram were on hand to provide some great advice and recommendations for products to make traveling this holiday season a little easier.
"Those things are the f*cking worst," Jason Biggs, Prepon's Orange Is The New Black co-star and father of two, wrote on Twitter. "Get the baby bjorn one." YouTube family vlogger, Jessica Ballinger, recommended the "Rock n Play sleeper" to Prepon on Twitter, which was a product echoed by other Instagram commenters. Some commenters also tried providing advice to Prepon on how to travel with the pack 'n play she already had.
In less than 24 hours, Prepon received more than 1,500 comments on both social media platforms from friends and fans looking to lend a word of advice. Because when you're in doubt, someone on social media can both definitely understand what you're going through and probably provide some solid advice.
While social media was able to provide Prepon with so much advice to choose from, there are just as many articles with tips and tricks to make traveling with a newborn incredibly easy. While Prepon might be tempted to bring her own pack 'n play with her on the road, according to USA Today, there are companies located in vacation destinations that allow you to rent those things, along with heavier and bulkier items, making traveling a little easier. And while Prepon's newborn might feel a little jolted from a change of routine, according to Parenting, there are plenty of ways to make your baby feel at home in a place that isn't their own. For example, according to Parenting, parents traveling with their baby for the first time should let them sleep in their portable travel bed for a few nights before embarking to their destination so the baby can get used to their new setting.
But after receiving some great advice from fans, there is no doubt that Prepon's travels with her daughter will be made a little easier.
Check out Romper's new video series, Romper's Doula Diaries:
Watch full episodes of Romper's Doula Diaries on Facebook Watch.