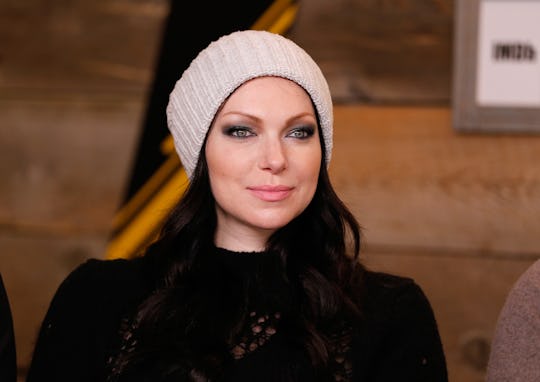 Rich Polk/Getty Images Entertainment/Getty Images
A Bundle Of Joy May Be On The Way For Laura Prepon
Make room for baby...? An unnamed source on Monday claimed to People that Orange is the New Black star Laura Prepon was reportedly pregnant with her first child. The report comes on the heels of Prepon's first public comments about her engagement to fiancé, Ben Foster.
"Ben seemed really protective and kept very close to Laura the entire night," the source claimed, referring to the couple's appearance at a dinner for the Creative Coalition's annual Spotlight Awards on Sunday. "Neither of them got up much to mingle." Prepon's reps declined to comment on the reported pregnancy in an email to Romper.
Just a few days earlier, on Saturday, Prepon opened up about her very private relationship with Foster, during an interview with E! News at the premiere of her film The Hero, which showed at this year's Sundance Film Festival. "I'm happy. It's amazing. He's the love of my life," she said. Prepon also took the time to joke about the extensive planning involved with the couple's wedding nuptials.
"We want a really small wedding but we have a lot of people that we love and care about," she said. "It's weird, [but] apparently doing the list for your wedding is a whole thing that could cause some issues. ... [The Orange is the New Black] cast alone is like 50 people."
Prepon herself has not yet confirmed the pregnancy rumors, nor have Foster and his reps.
The actress, beloved for her role in the long-running comedy That '70s Show, did take the time to post a few photos of herself following Sunday's Spotlight Awards, where she won for her part in The Hero. "Honored to receive the Spotlight award for THE HERO," she wrote in the caption of an Instagram photo featuring her with a glass statuette, clad in a cozy black get-up and a white beanie (and showing no visible signs of a bump).
Whatever the case, both Prepon and Foster have undoubtedly full schedules ahead of them already: Netflix recently announced that Orange is the New Black, which is set to return this year for its fifth season, had been renewed for an additional three seasons; Likewise, Foster has three films set to either debut or begin production this year alone, including Galveston, Rock'n'Roll, and Hostile. The latter is currently in post production.
All that planning is reportedly making the aforementioned wedding planning a bit difficult, Prepon admitted to E!. "He's going off to do two movies," she said. "I just wrapped last week. "It's just, you know, scheduling. It's a lot."
Whether or not the couple are expecting a little one in the next year as well remains to be seen — but for now, both Prepon and Foster seem happy, busy, and ready for whatever comes their way.