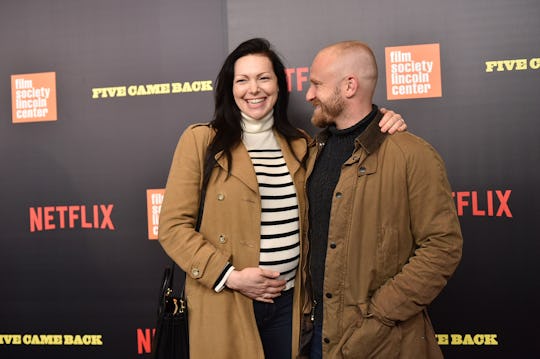 Mike Coppola/Getty Images Entertainment/Getty Images
Laura Prepon Welcomes A Baby Girl!
Orange Is The New Black? More like orange is the new baby — really. After it was reported that she was pregnant in January, Orange Is The New Black star Laura Prepon welcomed her first child with fiancé Ben Foster earlier in the week, according to Us Weekly, and the news could not be any more exciting.
As previously stated, Us Weekly was the first source to report the very happy news, after a source spilled the beans to the magazine. According to Us Weekly, the couple was seen this past Tuesday on a date in New York City enjoying dinner after the baby's arrival, which means the baby had to be born sometime in the past few weeks.
There are not that many details surrounding the baby's birth, like the name or the exact date that she was born. But fans do know that Prepon and Foster welcomed a girl, thanks to the announcement she made earlier in the summer during an appearance on Live With Kelly and Ryan. It was there where she announced the baby's gender and talked about how fast and grueling pregnancy can be. "It's kind of weird, cause it sneaks up on you where you're like 'I can't believe it's been eight months already'," Prepon said during the interview, according to Us Weekly. "But then you're like, 'Oh my god, she needs to come out already.'"
Time definitely did sneak up on Prepon who described her first pregnancy as "such a blessing", because now two months later, Prepon's baby is here.
Prepon's publicist has not yet responded to Romper's request for comment regarding the reported news.
It's no surprise that the self-described "very private person" is keeping quiet about her daughter's birth and kept to herself during her pregnancy. In an interview with Us Weekly, Prepon shared all of her feelings about her first pregnancy, telling the magazine in July:
I'm creating life and it's so incredible. I'm so ecstatic for this experience but you go through so many changes. We've been in the Pacific North West keeping it low-key. I'm a very private person.
Although Prepon remained pretty much to herself throughout her pregnancy, the red carpet shots she shared of her bump to her Instagram account while promoting the latest season of Orange Is The New Black were so adorable.
According to People, it was confirmed that Prepon and Foster were expecting back in January after photographers prematurely caught Prepon's bump on camera. "I hadn't even told my mother yet!," Prepon said on Live with Kelly and Ryan, according to People. But hopefully Prepon has had plenty of time to tell everyone about the very exciting birth of her daughter.
Congratulations to the new parents!