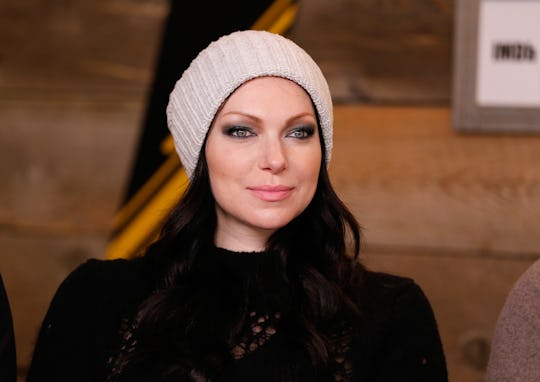 Rich Polk/Getty Images Entertainment/Getty Images
Laura Prepon's Outlook On Being A Working Mom Is Something Every New Parent Needs To Hear
Laura Prepon and fiancé Ben Foster welcomed their first daughter last summer, but it hasn't changed the actress' outlook on balancing both her career and motherhood. She's currently directing and starring in shows like Orange Is the New Black and most recently penned her first health and wellness book, The Stash Plan. However, Laura Prepon's message about being a working mom is perhaps her best advice yet, and it's an important reminder for new parents about why they shouldn't give (or feel the need to give) work a negative connotation.
Appearing on a recent segment of The MOMS to talk about her new book, as People reported, Prepon shared a little bit about what it's like to be a working parent. "Ben and I are really great about if I'm at work, he's [at home], and if he's at work, I'm [at home]," she said during the segment, according to People. "[But] I do feel guilty, and I just know that she'd be proud if she knew. I've talked to a bunch of women [asking], 'How do you do this?' And they're just like, 'There's really no solution. You just do it.'"
She went on to say that it's really important not to give work a negative connotation. As per the advice of a friend, Prepon shared that she learned that when she's communicating to her daughter that she has to leave for work, she does it in a positive way so as to develop a healthier perspective on it. "If you make it like, 'Ugh, I gotta go to work, that sucks,' it's negative," she said. "You never want that."
Prepon and Foster — who have known each other for over 18 years — got engaged in October 2016, as People reported. They welcomed their daughter, Ella, 10 months later (Prepon only recently revealed her baby's name on the aforementioned episode of The MOMS). She's offered her fans glimpses of what she experienced with her pregnancy, and how she's learning the ins and outs of new motherhood.
In November, for example, she shared photos of herself struggling to set up her daughter's crib and saying: "Having a little trouble with the new crib… Any tips on traveling with a newborn so I can avoid stuff like this?! #MomTipMonday." If that wasn't relatable enough, as Us Weekly reported, she also said that she started craving foods from her childhood when she got pregnant:
[My father] was a doctor and when he would have a break we would go to this Jewish deli. We would get this pastrami on rye sandwich with a Dr. Brown's black cherry soda. When I was a kid that's what we would get with my dad. With like mustard and sauerkraut. What's so funny is I have not eaten that stuff probably since I was a kid with my dad. So when I got pregnant all of a sudden I was like: "I need a pastrami on rye. I need a Dr. Brown's black cherry soda. I need mustard and sauerkraut." These crazy Jewish deli cravings hit me so hard.
It's refreshing to hear celebrities be so candid about such relatable topics, especially when it comes to balancing work and parenthood. Drew Barrymore, for instance, also shared a similar sentiment with Working Mother recently, saying:
Sometimes I feel like the two are pulling in different directions, and I feel really torn and freaked out in my head and my heart and kind of all over the place. I think there's a lot of days where I feel like, "Good, I took care of work stuff, now I can focus solely on my kids," and I'm revitalized by work to just go and be a mom and nothing but a mom... It makes me feel reenergized. I think if you did nothing but work, you'd be exhausted and resent work. And if you do nothing but [be with] your children, you'd be exhausted by that. It is a balance.
It's clear that celebs like Barrymore and Prepon have an abundance of wisdom to share, and though they're figuring it out as they go (like anyone else) they're definitely right about making sure that you take care of yourself physically and mentally, and still prioritize your own goals, even when your life has changed after you become a mom.
Check out Romper's new video series, Bearing The Motherload, where disagreeing parents from different sides of an issue sit down with a mediator and talk about how to support (and not judge) each other's parenting perspectives. New episodes air Mondays on Facebook.