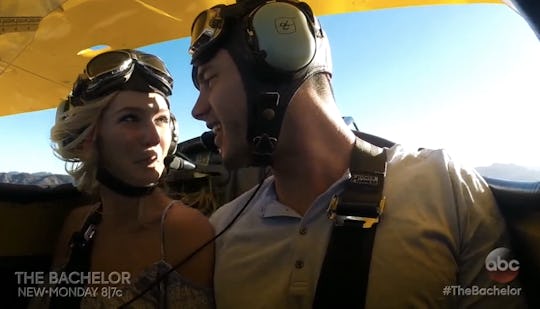 Lauren B. & Ben's Awkward Hot Tub Date on 'The Bachelor' Was Totally Uncomfortable
On this week's episode of The Bachelor, Ben plucked Lauren B from his mansion-full of ladies for a "magic carpet ride," ie., a one-on-one date flying over Los Angeles on a biplane. Just so the other contestants knew what they were missing out on, the pilot made sure to fly the couple's little yellow plane right over the mansion, so that Ben and Lauren B could wave hello to those left behind. Of course, everything improved after that during Lauren and Ben's totally awkward hot tub date... in the middle of the desert. (Sarcasm.)
While this date played out much to the other women's chagrin (ahem, Olivia and Jubilee), it was Ben and Lauren B that seemed to be having a bit of trouble connecting on a physical level, at least at first. Lauren harnessed her flight attendant experience to enjoy the ride in spite of some initial nervousness, until Ben tried to sneak a kiss. And while the show did its best to convince us with sweeping music that this was a romantic moment, the kiss itself was pretty undeniably awkward...
"I have a good view on my left and a good view on my right," Ben joked before he leaned in. Lauren B, seemingly unsure of the moment, puckered up to deliver a swift smooch, but Ben's lips lingered, which resulted in some weird, repeated closed-mouth pecking action. Rough.
Their physical chemistry didn't really improve when the plane landed in a remote desert location, where some poor The Bachelor elves (read: overworked PAs) had deposited a hot tub in the middle of nowhere.
Ben helpfully pointed out a tree behind which Lauren B could hide to change into her bikini (how...sweet?), and once they jumped into the jacuzzi, they attempting makeout sesh 2.0.
But it didn't seem to go any better that time, either, in spite of Lauren's insistence that she was feeling "comfortable and trusting." The couple did look like they were genuinely enjoying their time with one another, but on camera, Ben's mouth looked like the relentless aggressor, while poor Lauren B remained closed to invasion. Even more confusing was Lauren's report of the incident.
"I'm really shocked at how good it feels," she confessed in her cutaway interview. "Kissing Ben is perfect. Everything about it is perfect. I could do it all night long."
Oh, girl. Kiss cams never lie.
Images: ABC screengrab; Giphy