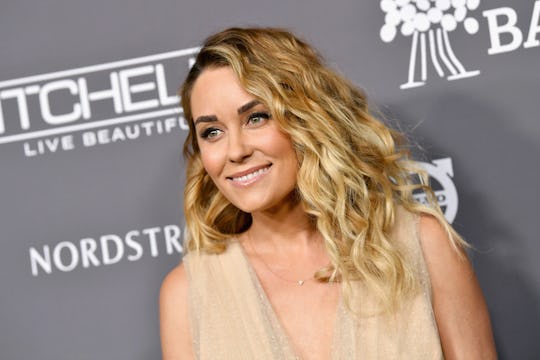 Emma McIntyre/Getty Images Entertainment/Getty Images
Lauren Conrad Opened Up About Traveling With A Baby & Her Story Is So Relatable
Life with a toddler is full of surprises. They're reaching milestone after milestone, leaving trails of cracker crumbs and toys in their wake, while moms just struggle to keep up. Former reality star, author, and entrepreneur, Lauren Conrad has one such toddler and 16-month old Liam Tell is already giving his mom a run for her money. Lauren Conrad opened up about the challenges of traveling with a baby and, as can happen with a little one, things got a little awkward. Good thing he's cute!
If you've ever traveled on a plane with a child under two, you know that there are certain challenges involved, with the biggest one being diaper changes. There's literally no room in those tiny bathrooms and rarely are there changing tables. Just the smell of a dirty diaper on an airplane is enough to jump start a mom's heart into a panic, let alone having to worry about what the other passengers are smelling and thinking.
So, naturally, Conrad found herself in just this situation with little Liam.
"[It] didn't have a changing table, and it was bad. I handed him to a stranger. I opened the door and I was like, 'I don't know what to do.,'" Conrad said in an interview with People.
Well, it wasn't just any stranger. It was a flight attendant who, thankfully, was well-versed in fussy babies.
"The flight attendant was so nice. She was like, 'I hold babies all the time.' I was like, 'Thank you.'"
Moms are often put in these precarious situations, thanks to babies who often need diaper changes in the least convenient of situations.
This isn't the first time that a flight attendant has come to the rescue of a mom in need. Early this year, a flight attendant's motherly instincts made her story go viral. During a Hawaiian Airlines night flight, she soothed a crying baby so his mom could get a much-needed break, according to Travel & Leisure. While it was no big deal to the attendant, the mom must have thought she was heaven-sent.
Liam is the first child for Lauren Conrad, 32, and her husband, William Tell, according to Us Weekly. Liam turned one this summer and Conrad posted a sweet family picture on Instagram just for the occasion:
"Celebrating 1 year with our little guy🎂 Happy Birthday Liam!!"
For Conrad, life is often centered around Liam whether she likes it or not. In an interview with People, Conrad shared this memory about trying to find Liam's favorite book.
It was like our house was on fire! We were like, 'Have you seen the book? Where's the book? Where'd you put it? Where's the book?!' So I feel like daily you just have something that happens where you're like, 'All right, we're doing this.'
Most moms can relate. If a favorite lovey is missing, the house is going to get torn apart.
Another tip from Conrad? Always keep food on hand, especially when you have a toddler who tends to get hangry, just like Liam, according to People.
So is this the last challenge Conrad will face with her baby, Liam? Try changing a baby on a long road trip or a sporting event. Talk about awkward!