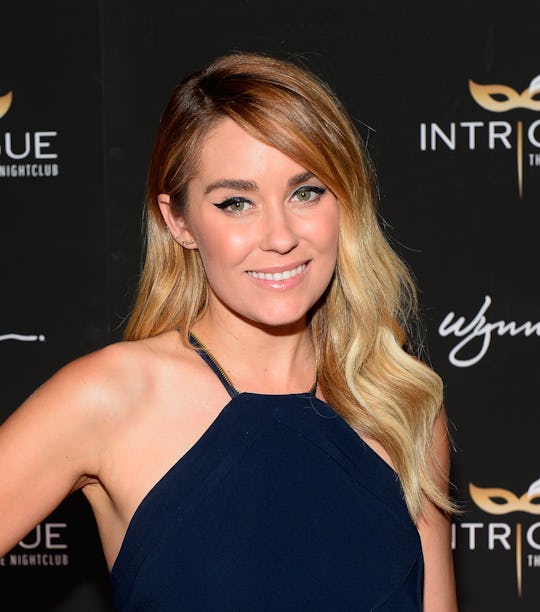 Bryan Steffy/Getty Images Entertainment/Getty Images
Lauren Conrad's Perfect Pregnancy Advice
Fashion designer and The Hills star Lauren Conrad has a baby of her own on the way — and considering her penchant for giving fantastic lifestyle advice, fans are already looking forward to Lauren Conrad's pregnancy quotes, blog posts, and tips to fellow pregnant women (and basically anyone curious about what it's like to carry an actual human inside you). Considering that the somewhat private fashion maven only announced her pregnancy with husband William Tell on Jan. 1, it might be a while longer before we hear much about Conrad's own pregnancy. Clearly, however, she's been pregnant long enough now to have some advice for those surrounding pregnant women — and she's pretty much spot-on. (Get ready to say a lot of "Amen!"s in agreement here.)
In the few weeks since she announced her pregnancy, Conrad has already shared a baby bump picture, a sonogram shot (adorably captioned "Happy New Year! I have a feeling 2017 is going to be the best year yet..."), and a blog post on pregnancy etiquette. Her blog, LaurenConrad.com, has also begun to feature more pregnancy and parenting-related advice, such as a contributor's list of 10 things every new mom should know. As Conrad's pregnancy progresses, I have a feeling we may see more personal takes on motherhood and parenting, but in the meantime, here are Conrad's top quotes on pregnancy:
On Timing Her Pregnancy
"I want kids, but not in the immediate future," she told Lucky in 2013, according to Us Weekly. "All of my friends in their early 30s who just started having kids say, 'Give it a few years.'"
Looks like she gave it about three — not that you need to follow that same schedule, of course. Just don't let anyone else tell you when you should have them.
On Asking Someone About Their Plans To Have Kids
In a post on her blog, Conrad recently wrote:
A lot of married couples do start trying to get pregnant relatively soon after they tie the knot. But that is definitely not always the case—and it's never a fair assumption to make. Keep in mind that the decision to have children (both if and when), is an extremely personal one. And any questioning, pressure, or even hinting about it usually just makes the couple uncomfortable. ... You also never know if someone may be privately struggling with fertility or has suffered through a recent miscarriage. In those cases, asking someone when they are going to have kids can be a major trigger question.
On All Those Baby Bump Comments
"While seeing a friend's bump grow can be really exciting, you probably don't comment on the size or shape of any other part of a woman's body—and it's not a good idea to comment on her bump either!" Conrad wrote in a blog post in January. She continued:
Women carry their pregnancy in all different ways, and can be self-conscious about it. Whether a woman is bigger than average or she's not showing as much as she thought she would be, keep in mind that it can be a very sensitive subject.
... & On Those Lovely Postpartum Body Comments
On that same note, Conrad has noted, stop asking women about their pregnancies if you're not actually sure they're pregnant. It should be a no-brainer, but Conrad wrote in a blog post that several of her postpartum friends have been asked when they're due:
I've heard from my several of my friends that this is a question they have been asked in the first few months postpartum when they haven't quite lost the baby weight and still have a little "bump." There are also some people who just carry their weight in their belly even if they have never had a baby. There's no bigger blow to someone's self-confidence and body image than asking them if they are pregnant when they are not.
On Touching Expectant Women's Stomachs
"Every mama I know has some story about a stranger touching her pregnant belly," Conrad wrote in a blog post. "Even if you are a close friend or family member, it doesn't hurt to ask first before making a grab for the belly. No matter what your relationship to the mama-to-be is, keep in mind that it's much more pleasant to have someone politely ask if it is OK before groping your midsection."
Amen to all of that. Now we'll just be waiting patiently over here for some more sharp mama-to-be advice from Conrad as we wait for her wee one to make an appearance.