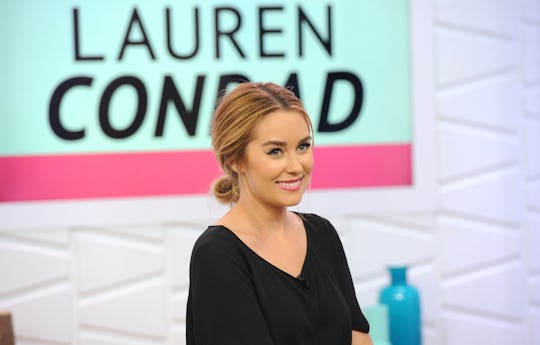 Craig Barritt/Getty Images Entertainment/Getty Images
Lauren Conrad Shares The First Photos Of Her Son And He Is Adorable
The Hills alum Lauren Conrad and her husband William Tell welcomed their first child July 5, and now the new mom is opening up for the first time about his birth and how she's adjusting to parenthood — and she's also shared some seriously sweet pics. Lauren Conrad shared the first photos of her son in a People cover story Wednesday, and honestly, they couldn't possibly be any cuter.
Conrad announced the news of her son's arrival on Instagram the day he was born, but opted out of sharing a photo of the infant at the time. Instead, Conrad posted a pic depicting the new family of five (their two dogs, Chloe and Fitz, were included!) as a sweet needlepoint illustration, and captioned the pic, "He's here! We're so excited to welcome Liam James Tell into the world!" She hasn't posted on social media since — clearly she's been busy with feeding and diaper duty — but in her interview with People, Conrad spoke about motherhood, and revealed that she's so happy to have a little boy.
While many couples opt out of learning their baby's sex ahead of the delivery, Conrad said that was never really going to be an option for her. Admitting that she "[doesn't] really love surprises," the fashion designer said she was thrilled once they found out:
I always hoped I would have a boy. Boys are so fun. I was a tomboy, and I always play best with boys. When we found out, I was so excited.
It's not the first time though that Conrad has discussed her excitement over being a boy mom. In an interview with Fit Pregnancy ahead of Liam's birth, Conrad said she was "thrilled to be having a boy," and while she noted that her husband kept trying to point out that a baby of either gender would be great, she couldn't help but have a preference:
I really wanted a boy. My husband kept saying, 'We just want a healthy baby.' And I'd say, 'But a boy would be nice!' I was a wild little tomboy, so I think I understand boys. My mom always told me that nobody loves you like a son does, especially when he's young.
Lucky for her, she got her wish, and from the sound of it, life with Liam is a total dream. In fact, Conrad told People that even the new mom sleep deprivation isn't really bothering her. She said,
I feel so spoiled. Liam is such a good baby. I'm sleeping three to four hours at a time. This morning I was up at 4 a.m. and I wasn't even tired, so I cleaned the kitchen and did some cooking. William was like, 'You're crazy!'
In fact, even though her little boy is only about a month old, Conrad said that she and Tell are already looking ahead to expanding their family:
I was looking at him the other day, and I was like, 'I understand now why people keep having babies!' We'll probably have two. I think it's best not to be outnumbered.
But fans of the new mom's clothing line shouldn't be too concerned that she'll be slowing down anytime soon. A month ago, Conrad released her own maternity collection, and in addition to her already-successful lines, Paper Crown and LC Lauren Conrad, the entrepreneur says she also has her sights set on eventually branching out to children's clothes. In an interview with Romper in June, Conrad says,
I would love to do kids' clothes — everything is cuter tiny. [But] I think I need to have a little more experience shopping for and dressing a baby and a toddler. I couldn't do maternity clothes until I actually needed to wear maternity clothes.
Conrad seems to be loving life as a new mom, and her son is totally precious. But as much as she might be trying to soak in every moment of these fleeting early days, she also told People how much she's looking forward to the future. While it might still be a while, Conrad said she "can't wait to break out the finger paints," and watch Disney movies with her son for the first time. More importantly, though, Conrad said she hopes to be a strong role model for Liam as he grows, and wants to "teach him to respect women."
It seems like Conrad has given a lot of thought to the way she'll be raising her son, and hearing her gush about being his mother is so, so sweet. Finally getting a glimpse of Conrad with her beautiful little family has been so exciting — and hopefully it also means that we can look forward to seeing even more photos of Liam on social media as he grows.