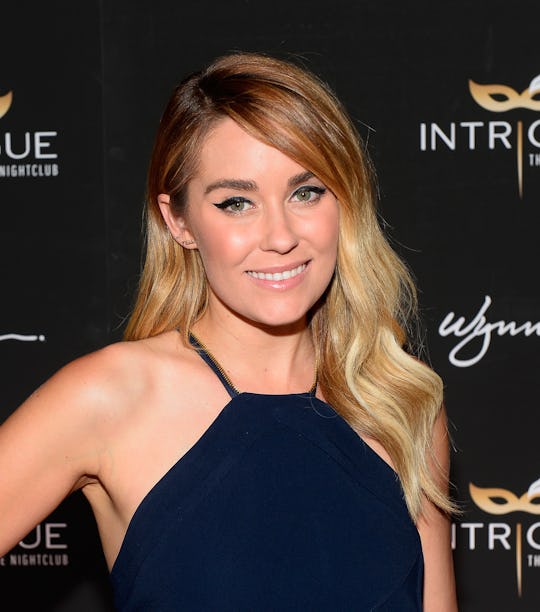 Bryan Steffy/Getty Images Entertainment/Getty Images
Lauren Conrad's Baby Bump Is The Cutest
After announcing her pregnancy earlier this month, official pictures of Lauren Conrad's baby bump have finally hit social media so fans can track her pregnancy accordingly (come on, you know you were curious anyway). The LaurenConrad.com team posted an image of Conrad on Instagram this week in a simple bump-hugging striped dress and long beige sweater. Her crew wrote, "Oh hello, cutest baby bump ever! We can't wait to meet your little bundle!"
This is not the first time that we've been privy to Conrad's good news. On New Year's Day, the former The Hills star shared a picture of her sonogram on Instagram to announce her pregnancy. She wrote on her personal Instagram account, "Happy New Year! I have a feeling 2017 is going to be the best year yet...," leaving everyone, fans and media alike, abuzz.
The 30-year-old is married to William Tell, a former member of the band Something Corporate, and it's a first child for both of them, so the couple must be crazy excited — as is, apparently, Conrad's lifestyle web team. Although there's usually a wealth of info about wedding etiquette and Goop-like product roundups, it's likely Conrad will be all about sharing more baby prep tips, since she's already been more forthcoming than any celeb has to be about her pregnancy.
It's not just her baby bump that's too cute for words, Conrad and Tell are also pretty adorable. Conrad wrote on their first anniversary that she loves being married. ""My favorite thing about being married is knowing that I have a partner in life that I get to do so many wonderful things with. Dreaming of the things we will do in 20 years from now is so fun," she wrote in a blog post on her site.
The mom-to-be added, "The hardest is compromise. You always want to be considerate of each other. It's not just about you anymore." It's a good thing the couple figured that out before bringing baby number one into the world — once the baby arrives, it will be all about the new arrival. There's no word on gender, due date, or a name choice yet, so you'll have to sit tight for that info.
Although she hasn't spoken in public much about those "things" she wants to do with Tell decades from now, Conrad has said in the past that she just wants two kids so that she and her husband won't be "outnumbered" by rugrats.
Sounds like a solid plan to us.