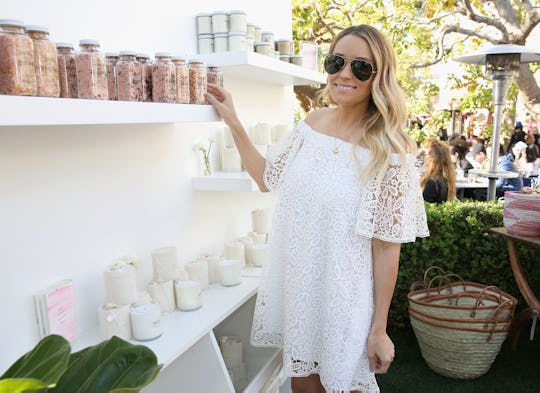 Rachel Murray/Getty Images Entertainment/Getty Images
Lauren Conrad's Baby Shower Was Amazing, Of Course
Lauren Conrad is getting ready for to become a mom for the very first time. The expectant mother has stayed fairly under the radar on social media throughout her pregnancy, only sharing two photos of her bump on Instagram, including one from her babymoon a few months ago. Conrad did, however, share a bit of her pregnancy journey with her fans on social media over the weekend: The former star of The Hills and clothing designer shared a sweet photo on Snapchat thanking her family and friends for a lovely baby shower — and from the brief glimpse fans got, it was obvious that Conrad's baby shower was amazing. She's known for her impeccable taste, of course, so it's not that surprising.
The picture shows Conrad standing in front of a pool, with rolling green hills in the background, surrounded by her loved ones. She's wearing a floor length sundress that puts her growing baby bump on display in the center of the photo. The sun is bright and shining, and there isn't a cloud in the sky (which is always a huge relief when you're planning a party outdoors). "So lucky to have these wonderful ladies in my life!" The mother-to-be captioned her photo. "They spoiled me with a beautiful shower today."
While Conrad has kept her pregnancy under the radar, she has shared some special moments over the past few months. She posted a gorgeous picture of her bump two months ago while on vacation with her husband William Tell. The two decided to jet off to an undisclosed beach location for a babymoon before becoming parents. The cute photo of Conrad's bare bump and a delicious look drink in hand as she relaxed in the sand was captioned, "Babymooning and pretending my blended lemonade is a margarita."
Conrad and Tell do know the gender of their little one, but they haven't yet revealed that to the public. They're keeping that piece of information private for now. In fact, Conrad hasn't discussed too many specifics of her pregnancy, but she has certainly embraced baby fever through her businesses.
Conrad released a list of baby names she's loving on her blog in early 2017, as well as telling her followers that she's excited to see "all of the fun baby content that this year is sure to bring with it." Conrad revealed she was particularly fond of the name Rowan because it's a gender-neutral moniker.
Conrad must be getting so excited to meet the new addition to her family. It's great to see she has so many loving and thoughtful people surrounding her as she approaches her due date.