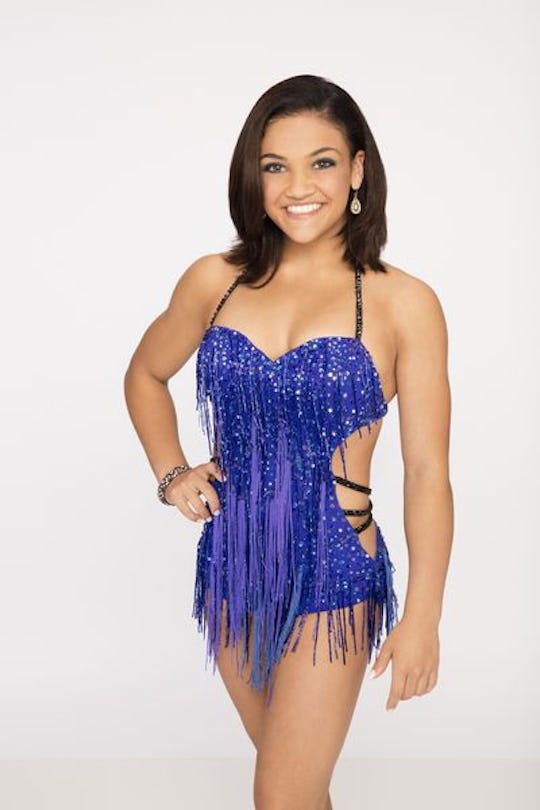 ABC
Laurie Hernandez's 'Dancing With The Stars' Dance Dubbed Her Disney's Beyonce
We all knew that Laurie Hernandez was going to be a frontrunner on this season of Dancing With the Stars. The Olympic gymnast is basically a human pretzel who spends 90 percent of her time airborne. Also she's got style, grace, and the most endearing smile on the planet. On Monday night's TV themed night, Laurie Hernandez's Dancing With the Stars dance officially crowned her as "Disney's Beyonce."
That, at least, is what Julianne Hough said when Laurie and partner, Val Chmerkovskiy finished their routine to the theme song from Duck Tales, which, by the way, Laurie had never heard of before. She also said their dance was "amazing." Len Goodman, always ready with a good bon mot said it had "snap, crackle, and pop," and Carrie Ann Inaba praised Laurie's "incredible level of performance." This is hardly huge news, as Laurie is a world-class artistic gymnast, and performance is a part of her sport. Despite having never even heard of the show before, Laurie perfectly embodied it's young, cartoonish, vibrant, and energetic spirit. And she looked like an absolute pro while doing it. Normally I say that stars are lucky to get paired with Val, but Val is lucky to have gotten paired with Laurie.
Val opened the video package by lamenting the fact that the Ryan Lochte protest from last week's episode kind of overshadowed Laurie, and took away from her moment. They were not about to let that happen a second time however, and the two totally brought it, complete with some flips and jumps to show off (just a little) some of Laurie's incredible athletic skill and prowess.
The judges had basically no negative feedback for Laurie and Val, who's bond is growing closer and more adorable by the moment. They earned the highest score of the night, with straight 8s from all four judges.
Laurie is definitely the frontrunner this season, but it looks like she's got some dark horse competition that might just overtake her if she's not careful. Terra Jolé and James Hinchcliffe have both proved themselves to be surprisingly formidable performers. So who knows how this will end.