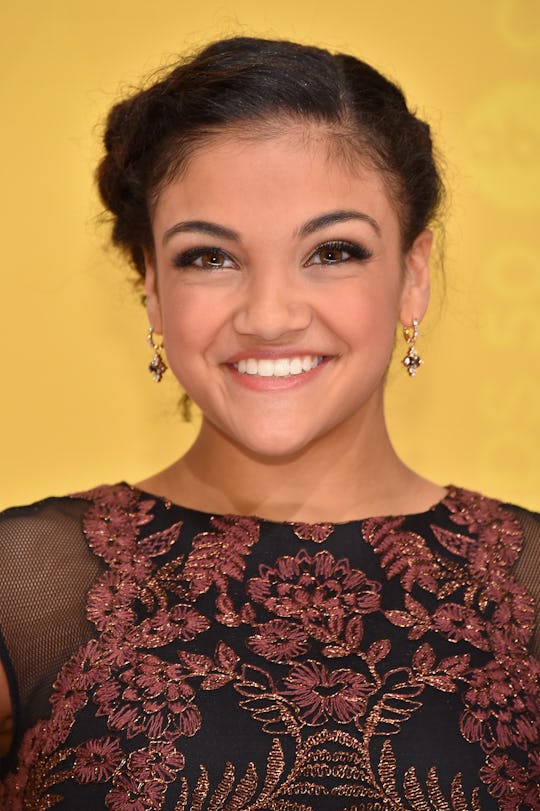 Michael Loccisano/Getty
Laurie & Val Dance 'Chicago's "Cell Block Tango" On 'DWTS' & It Was Perfection
Week 9 on Dancing With the Stars was Showstoppers Week, when all the contestants had to dance to a number from a Broadway musical. With only five couples left, the stakes are getting really high and everyone is bringing their A game. Laurie and Val danced to Chicago's "Cell Block Tango," on DWTS and it was a challenge to both of them, but they worked it out anyway.
Considering she's an Olympic athlete and a dedicated performer, it could be easy to forget that Laurie Hernandez is just 16 years old. One person who definitely has not forgotten however, is Laurie herself, who tends to giggle adorably every time she is asked to perform one of the slightly racier moves of her routines. In the video package before their performance, Val told Laurie that she would have to be sexy this time, and yes he's actually using that word. "Should we ask my mom?" Laurie asked, saying what I'm pretty sure everyone was thinking. But I'll tell you this much, if you tell Laurie to do anything, girlfriend does it. Laurie and Val's athletic Argentine Tango was nothing short of incredible, and left the judges all but speechless following. Laurie said they were going for extra spicy, extra sexy, and boy was she ever. ‌
After a few weeks with somewhat disappointing scores, Laurie and Val came back with a vengeance on Halloween night, and it's pretty clear from this dance that they plan to stay on the top. After their dance Julianne Hough said she was speechless, while Bruno Tolioni and Carrie Ann Inaba were completely impressed with Laurie's pure athleticism. "You were working Val like the vault, like the balance beam..." Carrie Ann said. Guest judge Idina Menzel told Laurie "You never have to work on being sexy," explaining that her sexiness was just her being herself.
"Cell Block Tango" is an iconic song from an iconic musical and Laurie made it entirely her own. It wasn't like watching a 16-year-old gymnast, it was like watching a professional adult dancer, who happened to have incredible gymnastic skills. Of course, she and Val got the perfect score they deserved. At this point, I'd be shocked if she didn't take home the Mirrorball in the end.