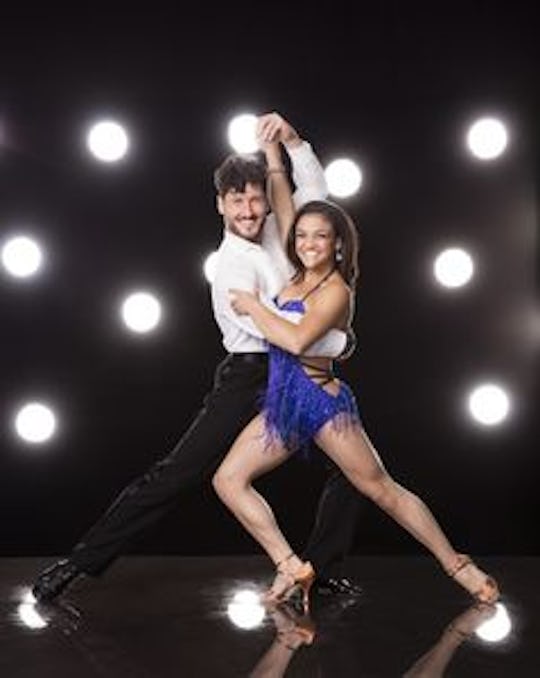 Craig Sjodin/ABC
Laurie & Val's 'Willy Wonka' Dance On 'DWTS' Halloween Night Was Surprisingly Emotional
Who could have predicted that Halloween night of all nights would bring Val Chmerkovskiy to tears on Dancing With the Stars? And yet, it did. Laurie and Val's Willy Wonka dance on Dancing With the Stars was surprisingly emotional — and it earned them a perfect score to boot. The video package opened almost immediately with a duo that was a little bummed with their recent scores. After earning a perfect score in Week 4, Val lamented that they shouldn't still be getting eights. And then when he thought about his young partner and how much he wants to do right by her, he pretty much burst into tears. As if we needed any more reason to love him.
But Laurie cleared her entire week to focus on getting the dance just right, because she wanted to be dancing like a professional, and boy did they ever bring it. It's really quite incredible to watch what this 16-year-old athlete can accomplish with just a little bit of focus. That plus the absolute perfection of having them dance a Viennese Waltz to "Pure Imagination," from Willy Wonka and the Chocolate Factory. From Laurie's girly, floaty dress to Val's adorable top hat, this dance could not have been more delightful. Bruno Tolioni wasn't lying when he called it a "Viennese wonder waltz."
Perhaps it's the pure joy that Laurie brings to each of her dances. Or perhaps it was Val absolutely bursting with paternal love for Laurie, but after their performance, there was not a dry eye in the house, or perhaps in all of America. This includes the judges, as Carrie Ann Inaba was literally wiping away tears before she spoke. "You brought me to tears," she said, going on to praise their "true emotion and tenderness," while calling Laurie's dancing "divine." Julianne Hough was just as moved. She referred to it as a "childlike dream and enchantment" and said "Halloween is supposed to bring out your inner dreams and fantasies and that's what you did."
All three judges were in love with their dance, and they earned their first perfect score in weeks. In case you were wondering, the dream team of Laurie and Val is definitely back, and nobody is going to dethrone them now.