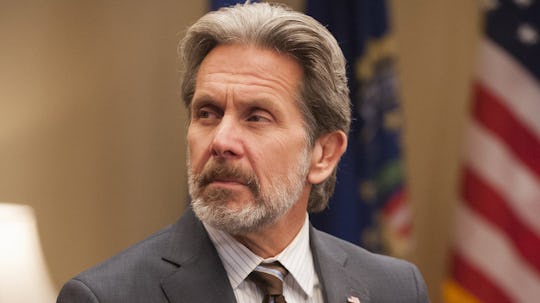 HBO
'Law & Order: SVU' Will Air A Trump-Inspired Episode, So Set Your DVRs Now
If you've recently fallen off the Law & Order boat, you're probably about to hop back on because Republican nominee, Donald Trump, is having a ripped-from-headlines Law & Order: SVU episode inspired by him, according to Buzzfeed News. According to the site, the Law & Order: Special Victims Unit Trump-inspired episode will air this month.
The episode was in the works long before the Access Hollywood leaked footage from 2005 hit the fan recently. In the episode, titled "Unstoppable", Gary Cole plays a Trump-inspired politician who has his campaign pulled out from underneath him when multiple women come forth with damaging allegations.
Cole is no stranger to SVU, you can actually catch him appearing in a 2004 episode. He also has experience playing politics as a regular on HBO's Veep. Peter Gallagher, Currie Graham, Meredith Travers, and Bianca Amato will also be featured guest stars in "Unstoppable."
The plot of the episode remains unknown for now, however, Buzzfeed informs that:
Parts of the episode were reportedly inspired by a lawsuit against Trump by a woman, referred to only as "Jane Doe" in court documents, who has accused the Republican presidential nominee of raping her in the 1990s when she was 13 years old.
(Romper reached out to Trump's camp regarding the episode's subject, but did not hear back at the time of publication.)
The episode had many "story adjustments" made to it that "raised eyebrows" of both cast members and writers. The changes pushed the air date for the episode. It was moved more than once due to "politically-motivated concerns at NBC about the election." Instead of airing in September, like originally planned, it will now go live Oct. 26 at 9 p.m. ET on NBC.
This might have a lot to do with the fact that NBC has been tied to the mogul for years. Trump was once the host of The Apprentice for 11 years, as well as Celebrity Apprentice. Trump co-owned the Miss Universe beauty pageant franchise with NBCUniversal until last year.
It's no shock that Trump's career is being looked into further. It is hard to ignore the words, "When you're a star, they let you do it. You can do anything. Grab them by the p*ssy. You can do anything." You simply cannot unhear that.
And with the episode's premiere just two weeks before the presidential election on Nov. 8, this will be a must-see.
You can bet money that Hillary will be tuning in.