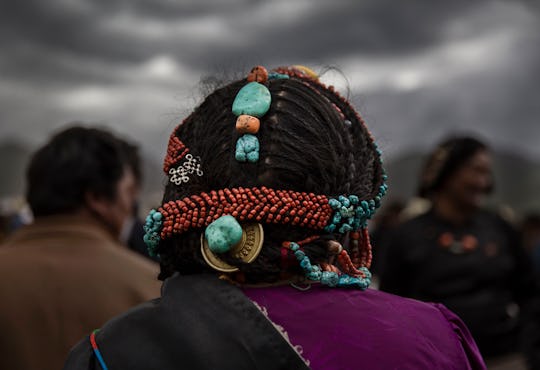 Kevin Frayer/Getty Images News/Getty Images
Indigenous Moms Were Coerced Into Getting Their Tubes Tied, New Lawsuit Alleges
For many women, childbirth is a beautiful, albeit physically painful, experience. But for a group of Canadian mothers, labor was anything but, and instead, reportedly turned into a horrific nightmare. Specifically, a new lawsuit has alleges indigenous women in Canada were coerced into sterilization in order to see their newborns, the CBC reported this week.
Alisa Lombard, an associate with the Indigenous-owned national law firm, Maurice Law, has filed a class-action lawsuit on behalf of at least 60 Indigenous women who report undergoing forced sterilization — also known as tubal ligation — over the past two decades, according to CBC Radio. These mothers allege in the lawsuit that they were "approached, harassed, coerced into signing these consent forms" during labor, and had their newborns kept away "until they agreed" to sterilization, Lombard told CBC Radio. Most were told, the lawsuit alleges, that the procedure was "reversible," even though tubal ligation success rates vary greatly, according to the Mayo Clinic.
The alleged forced sterilizations in Canadian hospitals happened as recently as last year, the complaint claims. The lawsuit names the Saskatchewan Health Authority, the province of Saskatchewan, the Government of Canada, and several physicians as defendants.
Responding to the class-action lawsuit, spokesperson for Indigenous Services Canada told Romper via email:
The Government of Canada feels strongly that all Indigenous women must receive culturally safe health services no matter where they live. We are committed to working with partners to improve the standard of health care services offered to Indigenous peoples.
Romper also reached out to the Government of Saskatchewan for comment, but did not hear back in time for publication.
This is not the first time Indigenous women in Canada have come forward with such claims. In January 2017, the Saskatchewan Health Authority — known then as the Saskatoon Health Region — launched an independent, external review, headed by Canadian Sen. Yvonne Boyer and Metis physician Dr. Judith Bartlett, to look into reports made by several Indigenous who said that they were pressured to undergo tubal ligations, according to The Globe and Mail. The agency released the 56-page report, along with its detailed lists of recommendations, seven months later, and "work has been ongoing in conjunction" with those findings since then, a SHA spokesperson told Romper.
At the time the report was released, Jackie Mann, vice-president of SHA's integrated health services, said, according to CBC Radio:
I want to apologize to the women who came forward in the review, who've come forward to us in the past, and who haven't yet been able to come forward to us.
In respect to the class-action lawsuit, however, the representative said in their statement that the agency is "not able to comment on those specifics or the process while this is before the courts."
Romper did reach out to Lombard for comment, but the attorney was unavailable for an interview. She is currently in Geneva for the United Nations Committee Against Torture, a spokesperson for Maurice Law told Romper.
Lombard, however, did tell CBC Radio that the forced sterilizations alleged in the lawsuit have had a profound impact on the women involved. The attorney said that many have experienced "bouts and persistent depression," as well as anxiety, adding that "many are no longer with us because of those aliments and those circumstances."
Each plaintiff is seeking about $7 million in damages, CBC Radio reported. A judge has yet to certify the complaint.