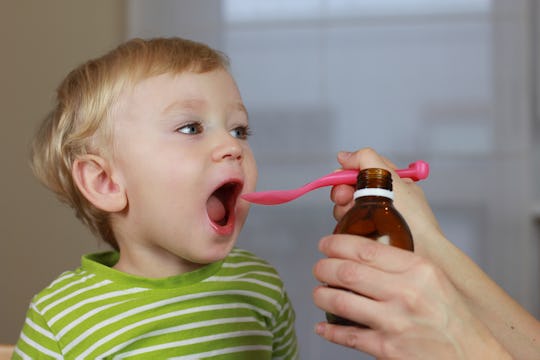 Fotolia
This State's Foster Care System Is Being Accused Of Overmedicating Children
Advocates for foster youth have long held that state child welfare systems are pumping kids with psychotropic drugs more than needed — or should be allowed. The excessive use of prescription drugs in foster care has been subject of investigative news stories and state legislation. And now a first-of-its-kind lawsuit challenging overmedication of children in Missouri's foster care system is is moving forward thanks to a recent federal court decision.
Last week, United States District Judge Nanette Laughrey granted the case, M.B. v. Corsi, class action status, noting that it will include "all children in … foster care custody who presently are, or will be, prescribed or administered one or more psychotropic medications while in state care," according to The Chronicle of Social Change. The plaintiffs allege that Missouri officials "engaged in harmful practices" by falling to follow proper procedure in overseeing and administrating psychotropic drugs to foster youth, violating their due process rights, according to the complaint.
The federal class action suit was first brought last year by two child advocacy groups, National Center for Youth Law and Children's Rights, on behalf of three foster children in Missouri. But now it will include more than 3,000 foster kids who have been prescribed antipsychotic drugs, KCUR reported.
Samantha Bartosz, deputy director of litigation strategy at Children's Rights, said in a statement:
The unacceptable reality is that children are being left in harm's way. We are gratified that the Court has agreed that there are major structural issues in the overuse of psychotropic drugs on children in Missouri, and this ruling makes clear the reforms that the Children's Division must implement for the safety of the kids. These children's lives are at stake, and there's no time to waste.
Romper reached out to the Missouri's attorney general's office, which is defending the case, for comment, but has yet to hear back in time for publication.
The lawsuit is the first federal class action suit to challenge a state foster care system over its alleged overuse of antipsychotic medications. But the issue is by no means unique to Missouri: A 2011 report released by U.S. Government Accountability Office found that foster care youth are administered antipsychotic medications between two and four times the rates of kids who aren't in foster care.
What's more: First Focus, a bipartisan children's advocacy organization, found that foster care youth enrolled in Medicaid are much more likely to take psychotropic drugs than children enrolled in Medicaid through other aid categories.
Some states have begun to address the overuse of psychotropic drugs in meaningful ways. In 2015, California introduced a bill targeting doctors in the state who overprescribe antipsychotic medication to foster youth, according to The San Jose Mercury News. The legislation, which was signed into law in 2016, was, in part, a response to The Mercury News' 2014 investigation that took a deep dive into the pervasiveness of prescribing children in California's foster care system "unproven, risky medications."
Since the investigative series ran, the number of kids in the California foster care system prescribed antipsychotic medications has dropped dramatically, The Mercury News reported this year. In 2014, more than 5,000 foster youth had been administered psychotropics; in 2017, that number dipped to less than 2,800, according to The Mercury News.
The rampant of antipsychotic medications in foster care is an issue that needs to come to an end — and soon. Hopefully the federal class action suit, which goes to trial before Laughrey in June, can make that happen, not just for children in Missouri, but for foster youth across the country down the line.