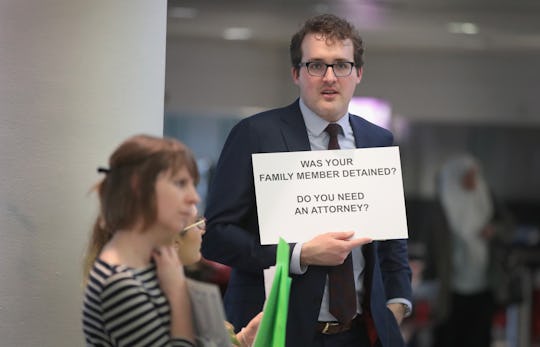 Scott Olson/Getty Images News/Getty Images
Lawyers Are Prepping For Trump's New Travel Ban
President Donald Trump's first month in office was riddled with controversy after controversy. From Press Secretary Sean Spicer's erratic behavior at press conferences, to more information about Trump's relationship with Russia being leaked, it hasn't exactly been smooth sailing. Especially considering the backlash from Trump's travel ban that he signed into order only a week after his inauguration, the president's actions are definitely being watched closely. And with reports that Trump is expected to sign into order a revised version of his travel ban soon, lawyers are already at airports ahead of the legislation in order to possibly represent any travelers affected by the upcoming order.
While the new order hasn't been signed by Trump as of yet, lawyers are already taking to airport terminals to prepare for what may come. Trump's last travel ban was followed by intense criticism, as well as a large amount of fallout resulting in the order being halted by a federal court, and, despite Trump attempting to reverse that ruling, an appeals court denied him. Since then, the president and his administration have been adamant that a new order would be implemented soon, with some sources even saying that it would come Wednesday.
However, after the success of Trump's joint address to Congress Tuesday night, the administration decided to wait to sign into effect the new order. According to CNN, an administration official stated that "We want the (executive order) to have its own 'moment'."
Trump's initial ban detained hundreds of people across the country, most without any warning of what was happening. While protesters and lawyers alike flooded airports all over the United States in Jan. and Feb. to highlight the chaos that the new order had caused, activists are hopeful that this new legislation will be less sweeping.
And it may be. While the original order banned citizens from Syria, Yemen, Iraq, Somalia, Iran, Libya, and Sudan from entering into the country, reports claim that his new order will remove Iraq from the list of majority-Muslim countries whose citizens are being barred entry to the United States.
However, that doesn't mean that others won't get caught in the cross fires this time around. Families were separated back in January, and as many of those detained weren't native English speakers, communication was difficult. That's one of the many reasons lawyers took to airports to help defend those denied entry.
Though the order has yet to be signed, lawyers are ready to fight again, defending the rights of those who feel like they may not have as much power.