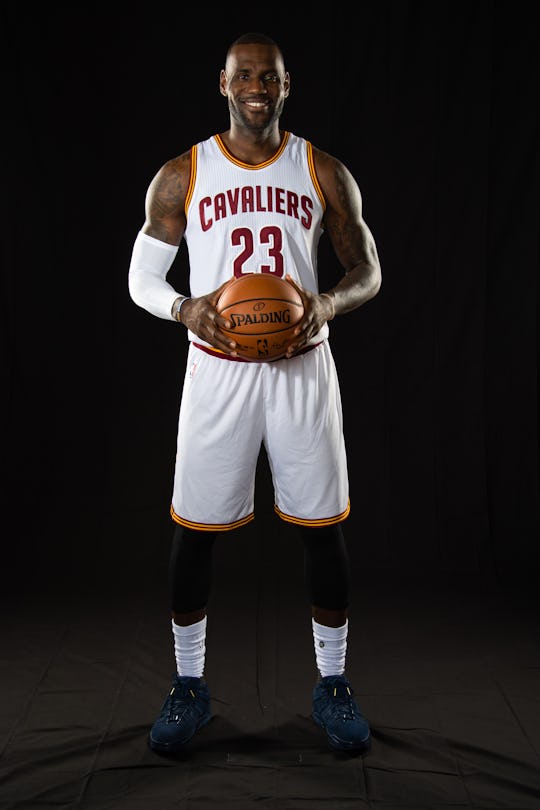 Jason Miller/Getty Images Sport/Getty Images
LeBron James Endorses Hillary Clinton & People On The Internet Have A Lot Of Opinions
The day before heading to Ohio, Democratic presidential nominee Hillary Clinton received a key endorsement from one of the state's own: Cleveland Cavaliers' LeBron James endorsed Hillary Clinton in a Business Insider op-ed on Sunday evening. Needless to say, the opinion piece (which will also be printed in the Akron Beacon Journal on Monday, when Clinton arrives in Akron to campaign) has already started generating quite the feedback online.
In his op-ed, James explained why he'd be voting for Clinton come November. "I am determined to make sure my kids in Akron have what they need to become their best selves," he wrote. He continued:
Opportunities, a support system, and a safety net for kids in poverty or kids in single-parent households shouldn't be limited to those lucky enough to be blessed with athletic talent. ... When I look at this year's presidential race, it's clear which candidate believes the same thing. Only one person running truly understands the struggles of an Akron child born into poverty. And when I think about the kinds of policies and ideas the kids in my foundation need from our government, the choice is clear. That candidate is Hillary Clinton.
James' op-ed is definitely a key endorsement for Clinton, who is currently polling 1.8 points behind Republican candidate Donald Trump in Ohio, according to a RealClearPolitics polling average. It's also a key endorsement in a key state: Ohio has long been considered one of the most important swing states, and, as political journalist Chris Cillizza put it in 2012, "As Ohio goes, so goes the presidential race."
The importance of James' endorsement wasn't lost on Twitter users, who had a great time imagining Trump's reaction to the news. Others were quick to dig up a list of things Trump has already said about James, and many, many people shared the article.
While the reactions to James' endorsement may be funny, James was nothing but honest and sincere in his op-ed. In it, he outlined why he supports Clinton step by step, writing:
She wants to make sure kids have access to a good education, no matter what zip code they live in. We must address the violence, of every kind, the African-American community is experiencing in our streets and seeing on our TVs. ... I don't know everything it will take finally to end the violence. But I do know we need a president who brings us together and keeps us unified. Policies and ideas that divide us more are not the solution.
Regardless of whether James convinces anyone in Ohio to vote for Clinton or not, he's certainly managed to get them talking. Now, he can sit back, relax, and keep an eye on the polls... and maybe on Twitter, as well, in case he gets a 3 a.m. shoutout from the candidate he didn't endorse.