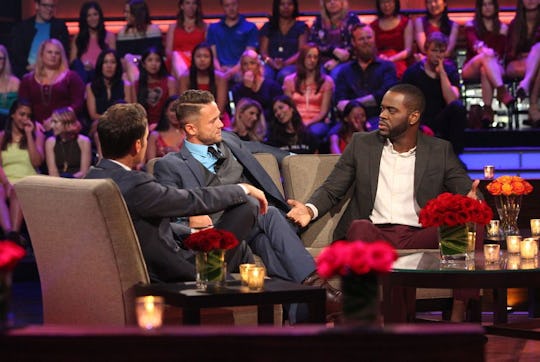 Paul Hebert/ABC
Lee's Tweets Were Finally Addressed On 'The Bachelorette: Men Tell All'
One of the biggest bombshells on this season of The Bachelorette was the revelation that Nashville contestant Lee Garrett had a pretty controversial Twitter timeline, in which fans found a bunch of misogynistic, homophobic, and racist tweets. Of course, the shocking discovery played out in real time as the season was airing before he responded by locking his Twitter account, so no one on the show allegedly knew the full scope of his views during filming. Thankfully, Lee's tweets are addressed on The Bachelorette: Men Tell All, and he got a very generous history lesson from some of his fellow castmates.
When it was Lee's turn to get called down to the hot seat, Chris Harrison first allowed him to address his tense relationships in the house. Then, they moved on to the tweets and one in particular generated a lot of shock. Chris could barely read it aloud: "What's the difference between the NAACP and the KKK? Wait for it…One has the sense of shame to cover their racist ass faces."
When Lee had the chance to speak again, he admitted a lot of fault. "I feel like I have a lot to learn in that area and I feel like I said things that I should not have said," he responded. "They were inconsiderate."
The guys pointed out that he was only sorry because he got caught, which was a point that Lee conceded. He said he understood why the public perception of him was bad, but that wasn't enough for Josiah, who took a dramatic, hand-in-pocket stroll down to the couch to explain precisely where Lee went wrong.
I want you to articulate to all of us: why did you come on the show where the Bachelorette was an African-American woman, if, on the other hand, you're tweeting about black people, and groups of black people who fought and died so that I can be on this stage next to you. People came before me so that I could go the same school like you, so that I could drink from the fountain like you, and if you're comparing them to the KKK — people who hung my ancestors. Why are you trying to date a woman who looks like me?
"I don't like racism at all," Lee replied. "It bothers me morally, it bothers me inside and I don't like, and when I woke up and I saw that those [tweets] came out, it hurt me a lot."
The suitors caught his wording immediately and called BS, pointing out that he was only upset once the tweets came out and that he never once denounced his actions until he was in the hot seat for "Men Tell All." Even DeMario stood up and got a round of applause for voicing a desire to give Lee a history lesson. "Lee, it's hard for me to fathom that you are somebody other than somebody who has racist views," Josiah concluded.
"I was being irresponsible in what I put out," Lee admitted. Anthony still pressed him to say the words aloud that he espoused and tweeted racist views, that he was, in fact, or at one point had been, racist, even if it wasn't his intention.
Eventually, Lee confessed that his tweets, views, and attitudes were racist and he denounced them, saying that he hoped to continue learning. Lee and Kenny hugged it out, which was a little saccharine, but he also apologized to Rachel for disrupting her Bachelorette experience in the way that he did. It was a little neat and tidy, but at least the black suitors got a lot of time to speak, while Lee mostly listened and apologized.