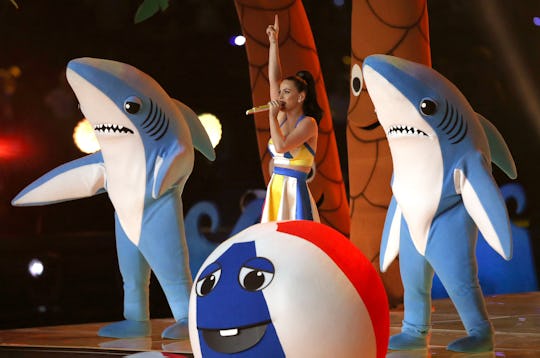 Andy Lyons/Getty Images Sport
Left Shark Tweets & Memes That Prove He's Still The Reigning Viral Super Bowl Moment
Coldplay and Beyoncé gave a pretty stellar Super Bowl Halftime performance on Sunday night during Super Bowl 50, but Beyoncé stole the show when she announced the Formation World Tour, which will start in May. The Queen released "Formation," the first single of her new album, on Saturday, and fans collectively lost it. Still, even with the epic tour reveal, Beyoncé didn't win the halftime show. Left Shark started trending on Twitter again, and Left Shark tweets and memes during Super Bowl 50 prove that he is still the real winner of the Super Bowl.
Katy Perry's Super Bowl XLIV performance last year was big not only because it's Katy Perry and she does everything big. But it was especially memorable because she had two dancers in shark outfits who danced behind her the whole time. But, the shark on the left, who people have come to know as Left Shark, truly stole the show because at one point he "seemed to have gone rogue," as Billboard put it. Left Shark improvised his own dance moves to "Teenage Dream," and they were hilariously awkward. Left Shark went viral again on Sunday, and it seems to have all started with people on Twitter joking that Chris Martin from Coldplay was the awkward Left-Shark equivalent at this year's Super Bowl.
It all started when a number of Twitter users tweeted about Left Shark and Coldplay.
And other users realized that Left Shark was missing from Pepsi's "Best of" Super Bowl montage.
But fans just weren't ready to let go of Left Shark.
And a mysteriously Twitter account called Left Shark said that he had to make an appearance at this year's Super Bowl to show off his new dance moves.
Some Twitter users said that this year's Super Bowl was a serious let down as far as good meme material went. Especially since the craziest thing that happened — Mountain Dew's Puppymonkeybaby — was also frightening.
Left Shark was seriously missed throughout Super Bowl 50. Maybe he'll actually make a reappearance next year?
#BringBackLeftShark.