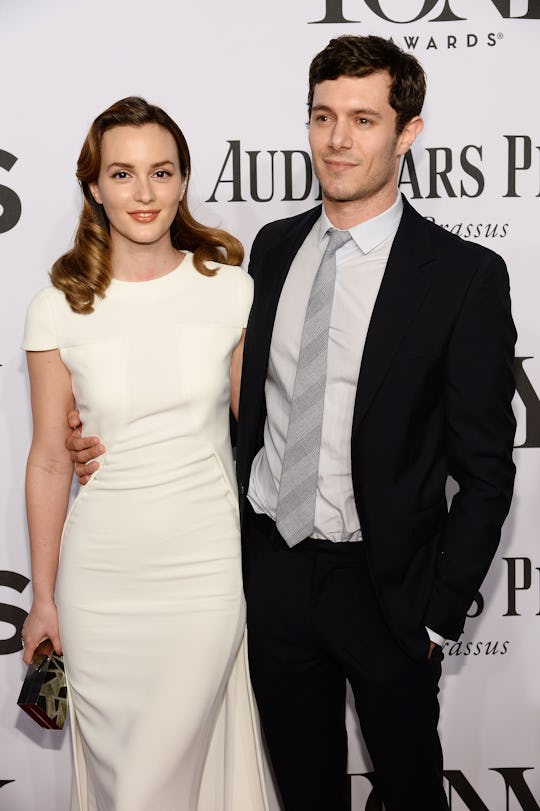 Dimitrios Kambouris/Getty Images Entertainment/Getty Images
Leighton Meester Shared A Rare Update On Her 2-Year-Old Daughter With Husband Adam Brody
When Leighton Meester married Adam Brody, some people (like myself) got very, very excited because both actor starred in some of the most iconic TV shows from the early 2000s, like Gossip Girl and The O.C., respectively. So when they made things official, got married, and then had a daughter, fans were so thrilled for them. Of course, what isn't pleasing to some is the fact that since they've gotten together, they keep a pretty low profile and don't talk too much about their private lives with the media. But on Saturday, Meester shared a rare update on her 2-year-old daughter and it sounds like she's totally loving life as a mom.
Meester and Brody welcomed their daughter, Arlo Day Brody, into the world on Aug. 4, 2015, according to Harper's Bazaar. But if you weren't super familiar with the couple, then you might not know this. Meester and Brody rarely post to social media or step out with their daughter enough for the paparazzi to even catch them as a family. So, when either Meester or Brody has something to say about their daughter, their fans' ear certainly perk up and listen.
And Meester's newest update about her daughter is no exception to this. During a red carpet appearance on Saturday, Meester shared some insight with Us Weekly as to how she and Brody are raising their daughter.
Meester said, according to Us Weekly:
I think getting out of the house is very important. I've realized more than ever that playing is how they learn and work. When they play, that's their work. That's their job. As soon as they get up, they want to play. When they play, that's their work, that's their job.
It definitely sounds like Meester has quite an active toddler on her hands and seems to have her daughter all figured out. Meester's update on her daughter is something that every parent can understand, especially since play is absolutely vital to the development of children. One 2007 study conducted by the American Academy of Pediatrics found that playing contributes to the "cognitive, physical, social, and emotional well-being" of children and playing gives parents an important time to bond with their child.
When children play, according to the American Academy of Pediatrics, they are exercising their imaginations, allowing them to imagine themselves in different roles, and learn how to work with others — all different skills that they will carry with them when they are older. So the fact that Meester is treating her daughter's "play time" as "work time" is so smart.
But there is a reason why this update about Meester's daughter is so rare — she tends not to talk about her for personal reasons and fans have to respect that. In an interview with Refinery 29 last year, Meester revealed that her daughter isn't her favorite subject to talk about — but not because she doesn't want to talk about her. Meester said, according to Refinery 29:
I don't talk about Arlo very much. I am very proud of that area of my life. But I'm also really proud of the show, and the work I do. I think the perception is: You're an ingenue, or you're an icon, or you're a mom, There's no in between.
Meester also added, according to Refinery 29, that "there's so much more to women" than just their husband or their children, and she does have a point. If she wants to keep that part of her life private and use her time in the spotlight to talk about her career, then she has every right to do so.
Although it might be a while until Meester updates fans about her daughter again, they can be rest assured that Meester has play time with her toddler under control.
Check out Romper's new video series, Bearing The Motherload, where disagreeing parents from different sides of an issue sit down with a mediator and talk about how to support (and not judge) each other's parenting perspectives. New episodes air Mondays on Facebook.