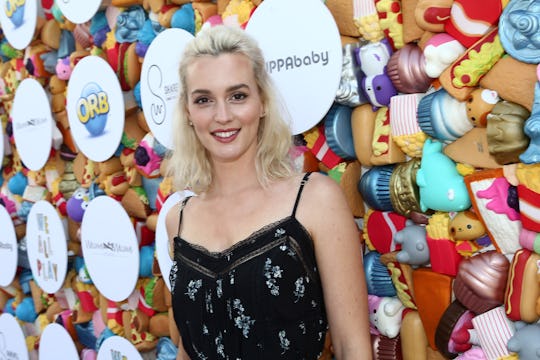 Tommaso Boddi/Getty Images Entertainment/Getty Images
Leighton Meester's Motherhood Quotes Prove She Prefers To Keep Her Private Life Private
Most of us probably remember actress Leighton Meester best from her role as Blair Waldorf on Gossip Girl. That's because the show — which lasted for six seasons — basically catapulted her into stardom. These days, she keeps busy with a steady stream of movie and TV gigs. Not to mention, this multi-talented lady continues to work on her music. (She released her first album back in 2014!) What some Leighton Meester fans might not realize about her off-screen life is she's actually a mother to a 2-year-old daughter. Leighton Meester's motherhood quotes prove she prefers to keep her private life private.
In fact, Meester opened up about on this very topic back in March 2017, during an interview with Refinery29. "I don't talk about Arlo very much," the actress admitted. "I am very proud of that area of my life. But I'm also really proud of the show, and of the work I do. I think the perception is: You're an ingenue, or you're an icon, or you're a mom. There's no in between." You know, I never really thought about it that way before — but it makes complete sense. Meester is concerned that sharing about her personal life as a mom will limit the types of roles she's able to land. Because then, she might only be type-casted as a mom. In fact, if you scroll through Meester's Instagram page, you won't find a single photo indicating she's the mom of a toddler. Nadda. So it seems she's completely dedicated to her convictions.
Then again, Meester remaining private about her personal life shouldn't be too surprising to dedicated fans. In early 2014, she married actor and former star of The O.C., Adam Brody, in a low-key ceremony that almost no one knew about beforehand, E! Online reported. And in March 2015, reports of a Leighton Meester baby bump started circulating after photo evidence was obtained by PopSugar, according to the publication. To be fair, Meester seemed to hint at plans to start a family a few months before. "Most people I know are starting to get married," Meester told Nylon in October 2014. "It'll be kids next. I like the grown-up stuff. I like having a house. I've got dogs."
More recently, Meester kinda, sorta (but not really) offered a tiny glimpse into life with a toddler. The actress, 32, was at the third annual We All Play FUNdraiser on April 28, Us Weekly reported, when she spoke about how crucial playing is to little ones. "I think getting out of the house is very important," she told the publication. "I've realized more than ever that playing is how they learn and work. When they play, that's their work. That's their job." She continued:
As soon as they get up, they want to play. That's how they grow, socialize, learn and develop.
(As a mom of three, I can confirm this to be true. I just wish the playing didn't always have to begin before 7 a.m.)
On one hand, I can to relate to Meester's concerns about what talking about motherhood might inadvertently do to her career. But still, I can imagine it must be incredibly difficult to cut the rest of the world off from that part of her identity — because it's kind of a big piece of the puzzle. If you think about it, sharing funny stories and relatable anecdotes about child-rearing worked out pretty darn well for celeb moms like Kristen Bell and Mila Kunis, for example. (Considering the success of Bad Moms, it seems to have actually paid off in the long run.) And Bell is even among the celebrity parents who have strict no-photo rules about her children. Similarly, Blake Lively (a fellow Gossip Girls aluma, for the record) has a no-kid-photo policy for her two daughters, but has continued to talk about motherhood. — and it seems she has zero issues landing roles.
What it comes down to is personal preference, I suppose. But the bigger issue, here, seems to be the double standard of type-casting women who are mothers and not men who are fathers. And this is definitely something else that needs to be addressed in Hollywood, among the long list of sexist practices that are finally being challenged.
Check out Romper's new video series, Bearing The Motherload, where disagreeing parents from different sides of an issue sit down with a mediator and talk about how to support (and not judge) each other's parenting perspectives. New episodes air Mondays on Facebook.