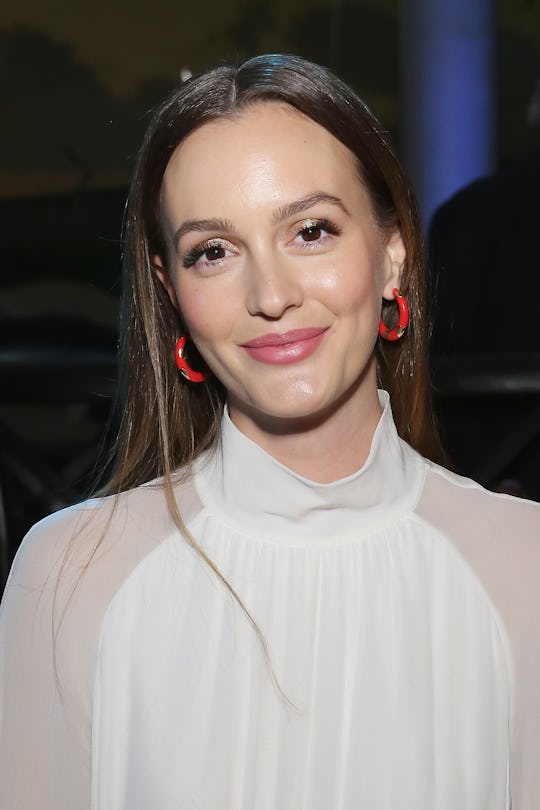 Mireya Acierto/Getty Images Entertainment/Getty Images
Leighton Meester's Quotes On Her Daughter's Privacy Send A Super Important Message
Leighton Meester, who is mostly known for her starring role as Blair Waldorf on the television series Gossip Girl, is also a fierce mother. In fact, Meester and Adam Brody (aka Seth Cohen) are married with a 2-year-old daughter, and it's a match made in teen TV show heaven — but Meester keeps rather mum about her daughter Arlo's privacy, according to Hello Giggles. She doesn't talk much about her daughter for a major reason that she's shared over the years, actually. And we could all learn something from her for doing so.
Though the world was introduced to Meester's daughter, Arlo, two years ago, Meester and Brody have decided not to publicly talk about their daughter, because the couple isn't into discussing their home life in public, according to Hello Giggles.
Meester shared her reasoning behind wanting to keep quiet about Arlo in the media with Refinery29. And it's not because she's not proud.
"I don't talk about Arlo very much — I am very proud of that area of my life," Meester told Refinery29. "But I'm also really proud of the show, and of the work I do." She explained that she thinks the perception is: "You're an ingenue, or you're an icon, or you're a mom. There's no in between."
She continued:"The excitement for a lot of people is: Man and woman meet, get married, then have a baby. But in the meantime, there's so much more to women."
There is so much more to women, and that's the message that Meester strives to share both in her work and in keeping her private life private. Even though Meester doesn't talk much about her daughter, it's clear she's raising her to become a strong individual who speaks her mind. That's largely because Meester makes it known that she is working to combat the gender stereotypes that put women into these boxes.
"Twentysomethings are everywhere on television, but they're only a part of the population," she told Refinery29. "Less often do you see strong, diverse, dynamic female leads who are considered older," she said, referring to women above 30 years old. She added that we have "flawed heroes" so often leading shows, but a flawed heroine is portrayed in a different way: "So much more of a bitch, and if she's older, certainly a dried-up one."
It's easy to see why Meester prefers to focus her attention on her career when she is speaking with the media, and why she chooses to keep her home life to her family; she is sending an important message about the heroines out there. Leighton has said that she doesn't want being a mom in real life to influence the kind of roles that TV executives think she should be cast in, according to Cosmopolitan. She said she hoped to avoid being typecast since she's 32 years old.
Most recently, however, fans did get some insight into Arlo's life when the actress attended the third annual We All Play FUNdraiser on Saturday, April 28.
"I think getting out of the house is very important," she told Us Weekly about her her daughter's schedule. "I've realized more than ever that playing is how [kids] learn and work. When they play, that's their work. That's their job."
So Arlo is learning to "grow, socialize, learn, and develop" through play, Meester told Us Weekly — that's her job. And, meanwhile, Meester's killing it at her own job: teaching her audience that women can indeed be mothers and icons.
Editor's note: After publication, we discovered this article did not meet our editorial standards. There were portions that did not correctly attribute another source. It has been updated to meet our standards.
Check out Romper's new video series, Bearing The Motherload, where disagreeing parents from different sides of an issue sit down with a mediator and talk about how to support (and not judge) each other's parenting perspectives. New episodes air Mondays on Facebook.