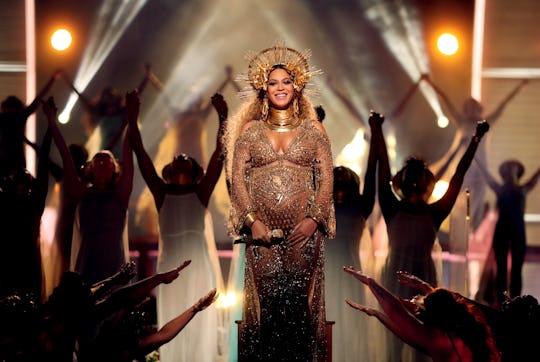 Christopher Polk/Getty Images Entertainment/Getty Images
'Lemonade' Was Totally Snubbed At The Grammys
First, let me start off by saying this: Beyoncé doesn't need anyone to "give her" a moment. The Queen IS a moment, and during the 2017 Grammys, she proved that. But, as many have noticed, Beyoncé didn't win the 2017 Grammy for Album of the Year. Adele did. Talented, respectful, and always stellar Adele took home the coveted trophy over Beyoncé for 25. But, despite Lemonade seemingly being snubbed at the Grammys, Adele — the winner of the award — made her Album of the Year speech all about Beyoncé. And while it didn't fix the pain the BeyHive was feeling, it did help.
There was an importance to Beyoncé winning Album of the Year this year. First of all, Lemonade was amazing. Like, it came with an entire motion picture, lest we forget. But, aside from how much I love Lemonade, had Beyoncé won Album of the Year, it would have been the first time a black woman had won since 1999 (when Lauryn Hill won). That is a long as f*ck time without a black woman representing music's biggest award (on music's biggest night). And, truthfully, it's a travesty that it didn't happen at the 2017 Grammys for Beyoncé.
In addition to that, the fans feel like there was a snub.
Another person who felt Beyoncé had a place on the stage was the actual winner of the Album of the Year award, Adele. In her speech for Record of the Year, Adele thanked Beyoncé. But, in her speech for Album of the Year, Adele basically "Kanye'd" herself, as some are calling it, by interrupting her own speech to talk about how wonderful Beyoncé is and how she deserves so much.
I can't possibly accept this award, and I'm very humbled and I'm very grateful and gracious. But my artist of my life is Beyoncé and this album for me — the Lemonade album — was just so monumental, Beyoncé, it was so monumental, and so... well thought out and soul bearing, and we all got to see another side to you that you don't always let us see and we appreciate that and all us artists here f*cking adore you. You are our light. And the way you make me and my friends feel — the way you make my black friends feel — is empowering, and you make them stand up for themselves and I love you. I always have, and I always will.
See? Women "competing" don't actually have to be pitted against each other like we're made to believe. While this award show does kind of crown someone "a winner" in each category, Adele's speech proves that women can have the adoration and success. They don't need to have one or the other. And that's what we can take from this "snub."
Beyoncé didn't walk away with the Grammy — but she walked away with a powerful AF performance, a daughter (and world, tbh) who watched so dotingly upon her during her speech, and a Grammy winner (Adele) taking her moment in the spotlight to say just how special Beyoncé really is. If you ask me, Beyoncé did win tonight.