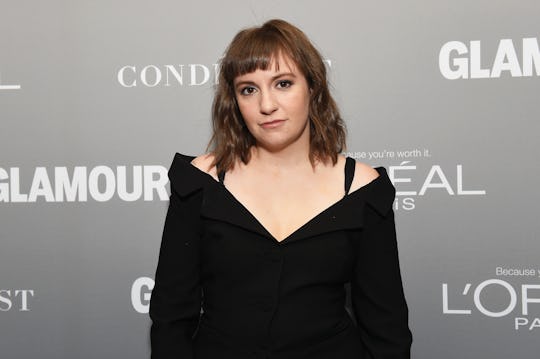 Emma McIntyre/Getty Images Entertainment/Getty Images
Lena Dunham Says Her Abortion Comments "Didn't Translate" Well
Lena Dunham managed to unite people on both sides of the reproductive rights debate on Tuesday, after a quote from her latest podcast was publicized. Dunham said on the podcast that although she'd never had an abortion, she wished that she had, and both the left and right were appalled. In a very long Instagram comment on Tuesday night, Dunham said her abortion comments "didn't translate."
My latest podcast episode was meant to tell a multifaceted story about reproductive choice in America, to explain the many reasons women do or don't choose to have children and what bodily autonomy really means. I'm so proud of the medley of voices in the episode. I truly hope a distasteful joke on my part won't diminish the amazing work of all the women who participated. My words were spoken from a sort of "delusional girl" persona I often inhabit, a girl who careens between wisdom and ignorance (that's what my TV show is too) and it didn't translate. That's my fault. I would never, ever intentionally trivialize the emotional and physical challenges of terminating a pregnancy. My only goal is to increase awareness and decrease stigma. I take reproductive choice in America more seriously than I take literally anything else, and therefore own full responsibility for any words I speak that don't convey this truth clearly.
Dunham's representative did not respond to Romper's request for additional comment.
Some fans accepted her apology, but many weren't satisfied with the explanation that she gave. Some argued that whether the joke landed or not, abortion isn't a subject that should ever be made light of: "'Abortion is hilarious' Said no-one EVER!" wrote one. Another woman said that she was a "huge fan" of Dunham's, and as someone who had recently had an abortion, "This hurt." Others complained that the star has a track record of making "careless" and "insensitive" comments, and one implored, "It's time to self reflect. Are you a help or a hindrance?"
Quite a few called out Dunham for casting the blame on her "delusional girl persona." Some saw it as a way to back peddle or distance herself from her words, while others felt that the character itself was troubling. "Maybe you should start speaking from a 'thoughtful adult woman' perspective instead of the 'delusional girl' act you keep trying to sell," wrote one. Indeed, whether a clueless, self-absorbed, immature woman is fictional or not, if she's held up as a feminist ideal, that makes all feminists look bad. And referring to an adult woman as a girl is infantilizing and insulting.
But, still, Dunham does a lot of important speaking out on behalf of women. The rest of that podcast episode, for example, was full of important voices and stories. Fans only hope that in the future, Dunham will let those stories speak for themselves rather than try to make the advocacy about her own.