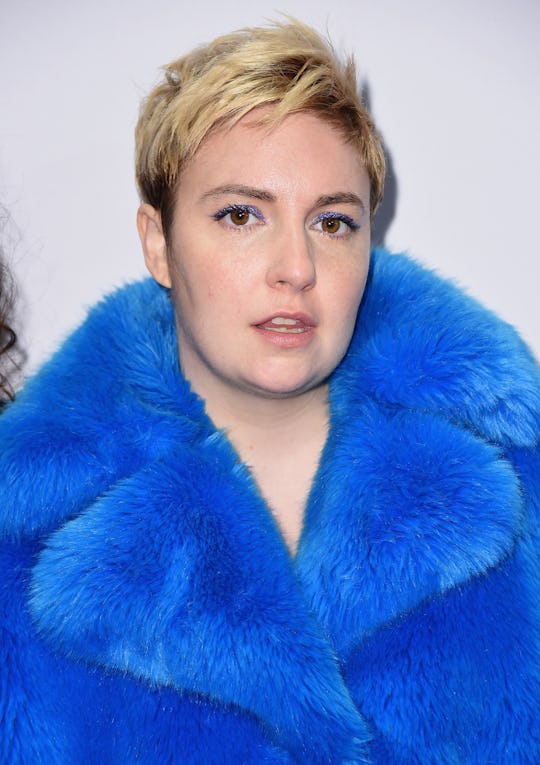 Michael Loccisano/Getty Images Entertainment/Getty Images
Lena Dunham's Apology For Defending 'Girls' Writer Accused Of Sexual Assault Is A Little Late
Lena Dunham has a tendency to put her foot in her mouth on social media, but this time she might have crossed a huge line. Over the weekend, Lena Dunham's apology for defending a Girls writer of sexual assault came way too late for many women on Twitter, since the harm was likely already done. Romper's request for comment from Dunham's representatives was not immediately returned.
In case you missed the story, according to Vanity Fair, actress Aurora Perrineau accused former Girls writer Murray Miller of sexually assaulting her in 2012 when she was 17 years old. Perrineau reportedly filed a police report with the Los Angeles County Sheriff's Office and, according to The Wrap, gave a polygraphed statement in September, which the media outlet was able to obtain.
In that statement, Perrineau alleged that she met Miller at a party with friends where she says to have told him her age. "At some point, I woke up in Murray's bed naked. He was on top of me having sexual intercourse with me. At no time did I consent to any sexual contact with Murray," she alleged, according to The Wrap. Romper's request for comment from both Perrineau and Miller's representatives was also not immediately returned.
Later on Friday, Dunham and Girls co-creator Jeni Konner issued a statement on social media defending Murray, alleging that Perrineau had falsely reported the incident.
Every one is innocent unless proven guilty and it's a bad look to condemn people in the media or on social media before they have a chance to defend themselves in a legal setting. Which is why as soon as Dunham released her statement, people were quick to criticize her for tarnishing Perrineau's story before an investigation. If there's one refrain so many of us have heard over the past few weeks as sexual assault allegations have surfaced against men in all industries, it's "Believe Women."
Dunham herself tweeted back in August that people shouldn't accuse women or assume they are lying when they come forward with sexual assault allegations, since one of the main reasons women don't report is a fear of not being believed or publicly shamed and blamed, according to RAINN.
Despite having expressed this viewpoint in the past, Dunham and Konner wrote in their statement on Friday:
While our first instinct is to listen to every woman's story, our insider knowledge of Murray's situation makes us confident that sadly this accusation is one of the 3 percent of assault cases that are misreported every year. It is a true shame to add to that number, as outside of Hollywood women still struggle to be believed. We stand by Murray and this is all we'll be saying about this issue.
On Saturday, Dunham walked her defense of Murray back on Twitter, acknowledging that she "naively believed it was important to share [her] perspective on [her] friend's situation." She added:
I now understand that it was absolutely the wrong time to come forward with such a statement and I am so sorry. We have been given the gift of powerful voices and by speaking out we were putting our thumb on the scale and it was wrong. We regret this decision with every fiber to our being.
Her apology though came way too late for many, since, as she said, by speaking out using her platform, she may have tipped the scale in favor of her friend. Given her celebrity, speaking out against another women coming forward was not the best choice despite whatever "insider" information she might have had, as she alluded to in her first statement. Simply, Dunham should have known better.
Many Women On Twitter Thought So, At Least
Others Weren't Shocked At All
If anything, getting involved in the situation turned the tables of the conversation so that it became about whether or not Lena Dunham is a feminist or not instead of giving the alleged victim space to report and LAPD investigators to do their jobs.
If anything, casting doubt on a woman of color while otherwise standing up for other women in their allegations (one of the initial alleged victims of Harvey Weinstein's to come forward, Asia Argento, tweeted that she had received a letter of support from Dunham), is very problematic if Dunham intends on posturing as an intersectional feminist.
It's true that we have to collectively have a conversation about how to handle the onslaught of sexual assault allegations, the grey areas, and how we deal with the perpetrators, or we risk "botching" the whole thing, as Erin Gloria Ryan from the Daily Beast aptly put it this week.
The past few weeks have felt like a rapture of sorts and though false reporting is very, very rare, it is one tool that the patriarchy uses against women who report sexual assault, which results in most cases of rape not being reported, according to the National Sexual Violence Resource Center. Both types of allegations deserve attention, but focusing on the many and not the few might be a better plan of attack if women want to chip away at rape culture.
When celebs like Dunham, someone who claims to be a defender of women's rights, intervene to discredit women, it does everyone else a disservice