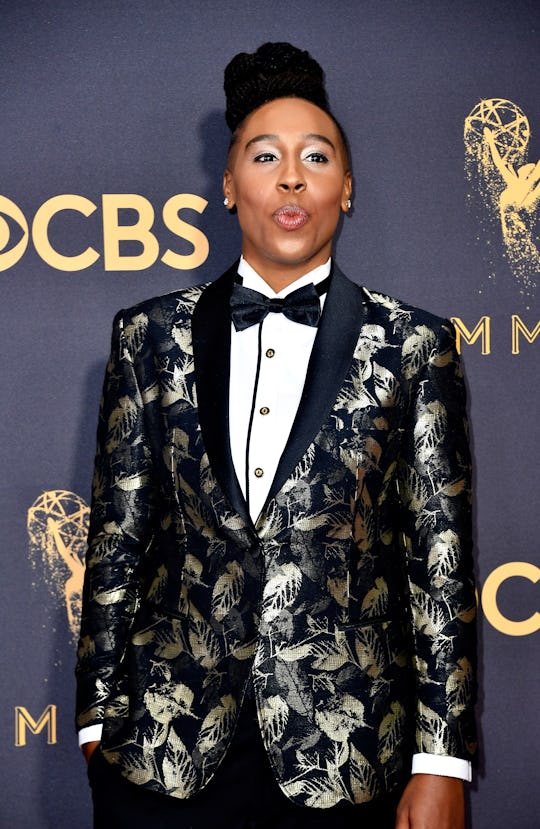 Frazer Harrison/Getty Images Entertainment/Getty Images
Lena Waithe's Emmys Speech "Reclaimed Her Time" & Fans Can't Stop Cheering
As the first African-American woman to win an Emmy for Writing for a Comedy Series, Lena Waithe's speech was understandably emotional. However, the fact that her Emmys speech "reclaimed her time" also made it a hit among fans on Twitter.
After Waithe, who cowrote the winning Master of None episode, made it to the stage with Aziz Ansari, they had to wait for the audience to calm down because they received a standing ovation, and rightfully so. Not only was this an historical moment, but the episode was a moving and personal piece that more than deserved the win. "Thanksgiving" follows Waithe's character, Denise, over the years, as she had Thanksgiving with her family, along with Ansari's character, Dez. Through the passing of time viewers see Denise come out to Dez, then her family, and then the audience watches her family, specifically her mother, played by the incredible Angela Bassett, gradually accept Denise for who she is.
At the Emmys, Waithe wanted to make sure she had enough time to thank everyone who contributed to her reaching this monumental moment in her life, so when everyone calmed down, she said she would like to "reclaim my time." The popular phrase was first coined by Rep. Maxine Waters during a House Financial Services Committee meeting back in August. Treasury Secretary Steven Mnuchin was testifying and each time Waters asked him a question, and he didn't give a straight answer, she "reclaimed her time," in an effort to get the answer she was looking for. Since then, the phrase has become a popular meme.
Though the moment got some laughs, Waithe then got down to business and made a moving acceptance speech. She of course thanked the incredible cast and crew that made the episode and opportunity possible, and she also specifically thanked Anisari for encouraging her to tell this story. However, it was the words that were said specifically for the LGBTQIA community that really struck a chord with so many people.
"Last and certainly not least, my LGBTQIA family, I see each and every one of you," she said. "The things that make us different, those are our super powers. Every day when you walk out the door, put on your imaginary cape and go out there and conquer the world because the world wouldn't be as beautiful as it is if we weren't in it."
Not only did her speech move viewers at home, but it was clear many people in the audience at the awards ceremony were also brought to tears. Waithe then closed out her speech by thanking everyone for supporting the episode and "embracing a little Indian boy from South Carolina and a little queer black girl from the south side of Chicago." She also thanked her girlfriend, referring to her as "the love of my life."
Besides how incredible Waithe's speech was, people were also really moved by the fact that Ansari stood by, letting Waithe not only speak for the both of them but really live in this moment. This was the second win for Ansari, but Waithe's first. She made history by being the first African-American woman to win the award, and it was so meaningful that she was able to shine in that moment, on her own.
It's clear these two aren't just great writing partners, but they're also really good friends, and it was exciting to see them share this moment together. Although Waithe did all the talking, it's obvious they're a team. Hopefully, this is just the beginning of their incredible work together, and there are more wonderful episodes of Master of None ahead.
Watch Romper's new video series, Romper's Doula Diaries:
Check out the entire Romper's Doula Diaries series and other videos on Facebook and the Bustle app across Apple TV, Roku, and Amazon Fire TV.