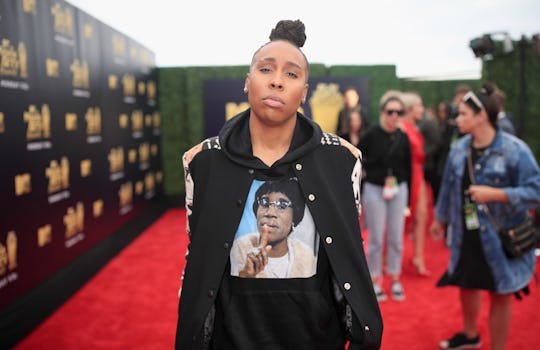 Christopher Polk/Getty Images Entertainment/Getty Images
Lena Waithe's Speech At The MTV Movie & TV Awards Paid Tribute To Trailblazers Before Her
It was no surprise to hear that actress and writer, a trailblazer in her own right, Lena Waithe would be taking home the coveted Trailblazer Award at the MTV Movie & TV Awards on Monday night. She's a talented actress and writer — with credits on hits like Netflix's Master of None and Showtime's The Chi — an outspoken and determined voice in the LGBTQIA community, and is essentially a force to be reckoned within the entertainment industry right now. It was exciting to see her accept this honor, indeed, but Lena Waithe's speech at the MTV Movie & TV Awards just proved yet again that there's no one more deserving than her as she took her time at the podium to thank a certain group of trailblazers before her who have paved the way for so many others.
At the awards ceremony on Monday, which was originally filmed this past Saturday, Waithe's friend Common introduced her to the audience, according to Entertainment Tonight. "She dreamed big, worked hard and became the first black woman to win an Emmy for writing a comedy series for Master of None," Common said before Waithe came up to accept the award, according to Entertainment Tonight. Common went on to describe Waithe in his introduction as "amazing, always inspiring, revolutionary and incomparable."
Unsurprisingly and incredibly well deserved, the audience immediately rose from their seats as Waithe went to the stage to accept the Trailblazer Award.
Waithe started her acceptance speech by explaining the definition of the word "trailblazer" and why she was so "grateful" to be 2018's honoree. According to E! News, Waithe said:
According to the dictionary, it means to be a pioneer or an innovator, and I'm extremely grateful that you guys see me in that light. But I believe the only reason why I'm even allowed to stand here is because of a few other trailblazers that some of you might not be aware of.
The trailblazers she's referring to are those behind the iconic and historic documentary Paris Is Burning, which followed drag queens — including Pepper LaBeija, Dorian Corey, Angie Xtravaganza and Willi Ninja — living in New York City in the 80s, according to E! News. "This movie was released in 1990 and it documents the lives of some of the bravest human beings to ever walk the face of this earth," Waithe said as she accepted her Trailblazer Award, as E! News reported.
Waithe went on to say, according to E! News, that she wanted to "share this award with them" tonight.
According to W Magazine, the film shed light on marginalized communities — including African-American, Latino, gay, and transgender — involved in ball culture, an underground LGBT subculture, in New York City decades ago. "Most of them trans women of color, who find vibrancy, family, love and acceptance in their art, even as they battle ignorance, hate, and the AIDS crisis," as W Magazine reported.
As such, Waithe's mention of this groundbreaking documentary and paying tribute to these trailblazers in the LGBTQ community was lauded all over Twitter. "LENA WAITHE MENTIONING PARIS IS BURNING IS LITERALLY THE LGBT HISTORICAL RECOGNITION THAT I NEEDED," one person tweeted, yes in all caps, after Waithe's speech.
As Waithe mentioned in her speech, many of the subject in Paris Is Burning have since passed, but their legacy continues to live on to this day and have paved the way for, and inspired, so many others. "They strutted through a brick wall so we wouldn't have to," Waithe concluded her speech, according to The Hollywood Reporter. And Waithe's dedication to the this iconic and grave group of trailblazers reminds us just that.