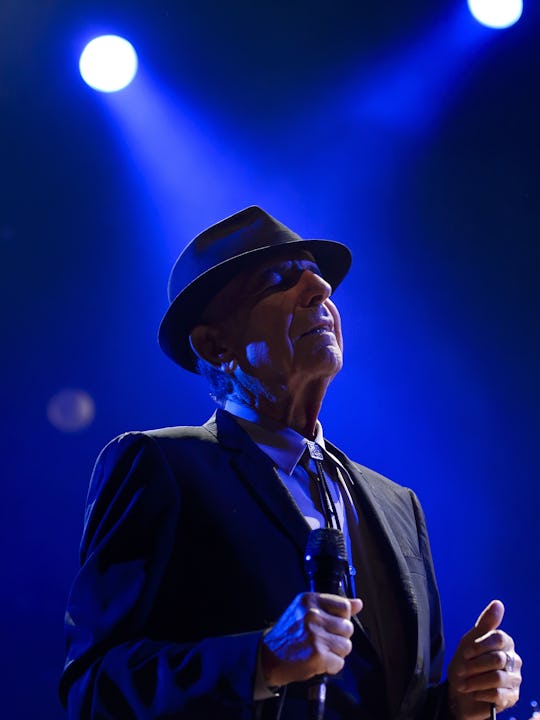 FABRICE COFFRINI/AFP/Getty Images
Leonard Cohen Dies At 82, & The Music Industry Loses A Legend
At the age of 82 years old, hugely influential music legend Leonard Cohen has died. The singer-songwriter, who was perhaps best known for crafting the 1984 song "Hallelujah," passed away on Thursday, according to an announcement on Facebook by his label, Sony Music Canada. "It is with profound sorrow we report that legendary poet, songwriter and artist, Leonard Cohen has passed away," the Facebook post read. "We have lost one of music's most revered and prolific visionaries."
While there were no details about the cause of Cohen's death, the statement continued that a memorial will take place in Los Angeles at a later date and that the family asks for privacy while they grieve this enormous loss.
In an recent interview with The New Yorker, Cohen said just weeks before his death that he had all his "marbles" and that he was "extremely blessed." Published on Oct. 17, Cohen said in the interview of how his life has been in his later years:
I have many resources, some cultivated on a personal level, but circumstantial, too: my daughter and her children live downstairs, and my son lives two blocks down the street. So I am extremely blessed. I have an assistant who is devoted and skillful…. So in a certain sense I've never had it better.
Cohen was first discovered in 1967 by the same talent scout, John H. Hammond, who signed other legendary musicians, like Bob Dylan, Aretha Franklin, Bruce and Springsteen. In the same year Cohen released his first album Songs of Leonard Cohen, which featured his first hit "Suzanne."
Several years later in 1984, the Montreal-born artist released the still increasingly popular hit "Hallelujah," which now has inspired over 300 known versions and covers.
"His dry, monotone voice, which over the years deepened to a cigarette-charred whisper, contributed to Cohen's popular image as a depressed — and depressing — artist," The Los Angeles Times wrote of Cohen's style on Thursday. "He teasingly alluded to that stereotype in one of his songs, referring to 'the patron saint of envy and the grocer of despair.'"
While Cohen never married, the Canadian musician has two children — a son, Adam , born in 1972, and a daughter Lorca, born in 1974 — with Suzanne Elrod.
As the world will miss Cohen greatly, he will long be remembered for his commanding influence on other musicians for the memorable work he created spanning over an impressive five-decade long career.