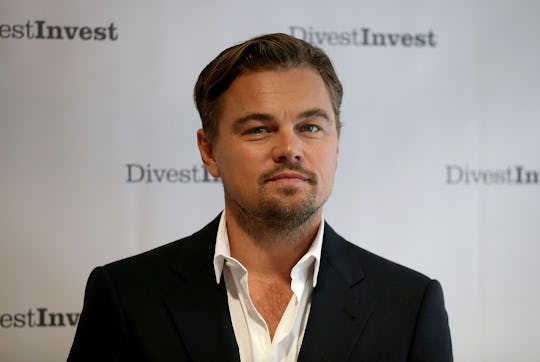 Leonardo DiCaprio Gets Golden Globes Nomination For 'The Revenant,' So Is An Oscar Finally In Sight?
Leonardo DiCaprio may have been shut out of the Oscars for years, but the Hollywood Foreign Press, the folks behind the Golden Globes, have always been fans. Leo has been nominated for nine Globes since 1994, and he has taken home two of the elusive statues — one for his role in The Aviator and, just last year, for his portrayal of Jordan Belfort in The Wolf Of Wall Street. So it's no surprise that the Globes didn't forget him or his work in The Revenant this year. Leonardo DiCaprio was nominated for a Golden Globe for Best Actor in a Motion Picture, Drama for The Revenant.
The film is a grisly-yet-gorgeous outdoor adventure in which DiCaprio portrays an explorer, Hugh Glass, in the early 1820s. When things go wrong on a seemingly routine expedition, Glass finds himself the victim of a brutal bear attack, and fighting for his life. Instead of coming to his aid, Glass is abandoned by his expedition team — including John Fitzgerald, played by Tom Hardy — and left in the wild to die. But Glass endures unimaginable pain and horrors and pulls through, and the rest of the film takes viewers along with Glass's path to vengeance.
Inspired by real life events, The Revenant is more than a survival story, it is a film which captures the very essence of the human spirit, and with such a strong cast — including Domhnall Gleeson and Paul Anderson — it is almost guaranteed this will be a must see this season. And with his Golden Globes nomination, Leonardo DiCaprio is even more of a must-see in it.
The Revenant will be released on Christmas Day 2015.
Image: Justin Sullivan/Getty Images Entertainment