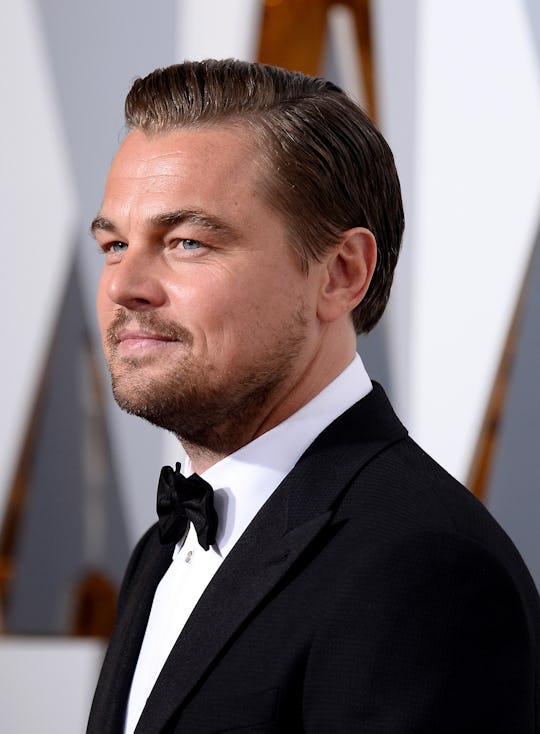 Frazer Harrison/Getty Images Entertainment/Getty Images
Leonardo DiCaprio Is The Unofficial Face of Girl Scout Cookies, & We'll Take All The Boxes
Two weeks ago, the Academy Awards aired, but it feels like just yesterday with the way the media and your friends continue to talk about it. Who could forget Chris Rock's hilarious take on #OscarsSoWhite in his opening monologue? Who could forget the collective tears of joy America shared when Leonardo DiCaprio finally went up to accept the award for Best Actor? Or the collective tears we shed when Lady Gaga stood up for all rape survivors, everywhere? Most importantly, who could forget the Girl Scout cookie bit during the show? For a New York troop, Leonardo DiCaprio is the unofficial face of Girl Scout cookies and we definitely want all the boxes.
For those of you that don't remember, the bit went a little like this. Chris Rock's daughters needed some help in their Girl Scout cookie sales. With a room full of millionaires who were probably pretty damn hungry, the girls set out across the theater passing out boxes of the cookies to celebrity buyers. Among those celebrities was DiCaprio who was moments away from accepting his first Oscar. A photo was later snapped of DiCaprio digging in to a box of Trefoils — a light, buttery shortbread cookie (and an excellent choice) — during the ceremony.
A very business savvy troop then used the image to create a poster to get people to buy the cookies. Now those girls are going places. ABC News reported that the Girl Scout troop who made the poster is from Suffolk County, New York and that their marketing was a success. "It made people stop at the table to read the sign, and then we were able to ask them to buy cookies," the troop said. "It's hard to say no to a Girl Scout."
The old hook, line and sinker always gets people, especially when you're selling Girl Scout cookies with Leonardo DiCaprio's testimonial.
The poster takes inspiration from the Be Like Bill meme that your mom and aunt loved sharing on Facebook last month. The poster reads "This is Leo. Leo wants an Oscar. Leo buys Girl Scout cookies at the awards. Leo wins an Oscar. Leo is smart. Be like Leo. Buy Girl Scout cookies."
Girl Scout cookies are delicious, which is enough of a selling point. Add in someone as influential and, yes I'll say it, hot as Leo, it's impossible for people to refuse. So give me a box of Tagalongs and Thin Mints, and I'll enjoy them as I watch Titanic. Thats basically the same thing as hanging out with Leonardo DiCaprio, am I right?